Fastenal's Struggles Continue Relative to Past Performance
Fastenal continues to struggle relative to its exemplary past performance, and the question now becomes whether this is the year that the "relative to past performance" caveat is moved aside so that the narrative simply reads "Fastenal struggles".
The company has pointed to challenges for its B2B customers facing economic uncertainty, particularly those with connections to oil and gas industries, which have negatively affected its own sales. In addition, the strong dollar is raised as a mitigating factor. These factors are likely to exert continued downward pressure on sales in the near term.
In terms of net sales, matters could certainly be worse. Fastenal comes off a year in which it booked a 3.6% increase in net sales. Net sales are likewise up 3.5% for Q1 2016 compared to Q1 2015. However, at this time last year, Q1 2015 net sales were up 8.5% versus Q1 2014, signaling challenges for the remainder of 2016.
New-store openings do not appear to be a significant piece of the current growth strategy. While the company has signaled an end to the contraction of its base in the last two years, they've walked back guidance on 2016 store openings this month: A store-openings estimate of 60 to 75 provided at the end of FY 2015 now sits at 40 to 60.
Much of the discussion during Fastenal's FY 2016 Q1 earnings conference call focused on its onsite FAST Solutions® vending business. A look at its growth makes it clear why. The company initiated the FAST Solutions® industrial vending machine program a few years ago to supplement store locations, as the vending machines are located at the customer's location and available to supply product 24/7.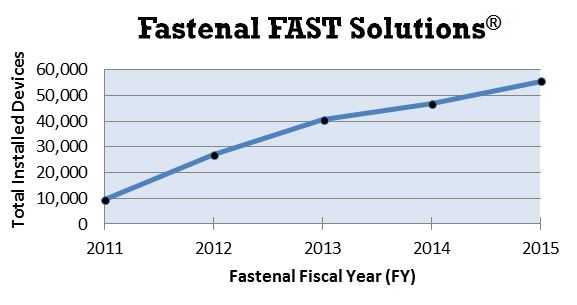 Data Source: Company Reports.
The following table contains Fastenal company data on the number of total vending machines in place ("Total Installed Devices") – the actual device count regardless of the type of vending machine. Fastenal provides its customers with over a dozen different vending unit options of differing size and, therefore, revenue potential. The "Machine Equivalents" column contains a count based on the weighted target monthly revenue of each device as compared to the flagship FAST 5000 vending unit which has a $2,000 monthly revenue target. These figures are reported by Fastenal save the 2015 machine equivalent, which is estimated by Chain Store Guide.


*Data Source: Company Reports. **Chain Store Guide Estimates.
Clearly, the investment in onsite vending has paid dividends. CSG-estimated 2015 FAST Solutions® sales now comprise roughly one-quarter of Fastenal's reported total sales for the year. Using these estimates with Chain Store Guide's historical company datasets to compare growth, this segment is undoubtedly imperative to the company.
In fact, comparing the estimated vending net sales increase for 2015 ($179.9 billion) to Fastenal's net increase in total sales in 2015 of $135.7 billion, we can conclude that the FAST Solutions® program was extremely instrumental in permitting Fastenal to end FY 2015 in the black.
A challenge, then, arises in the current state of the FAST Solutions® business as reported in the Q1 2016 earnings release: The total installed device count only increased 1,379 units (or 2.5%) from Q4 2015, a rate that will need to improve to simply keep pace with last year's unit growth.
With three quarters to go, there's work to be done.