New Starbucks Covering Full Range of Sizes
Starbucks is making sure it draws full potential from all of its store prototypes, with recent announcements covering both ends of the size spectrum. This month, the company opened its fifth "express" store format, a 600-square-foot location at Chicago's Union Station. The pint-sized store – featuring a limited menu, two-step ordering system, and no seating – targets busy commuters in the area looking for a fast visit.
Company officials say the limited menu covers 90 percent of typical customer orders in the area. If a customer's favorite item is missing, store baristas are trained to recommend a similar replacement. Frappuccino's, however, are omitted to save preparation time.
Inside the store, reclaimed wood covers the order bar and walls. The open-design kitchen is situated so that baristas face out, towards the customer. Starbucks began the express pilot last April, which currently has three stores in New York and another in Toronto.
On the other end of the store size spectrum, Starbucks announced plans to open its second Roastery-branded location. The 20,000-square-foot store slated to open in New York's Meatpacking District will be the company's largest ever. The new format is a combination of a coffee café and roasting facility with the goal of teaching customers how coffee is brewed and origins of beans. The first (and currently only) Roastery location opened in Seattle in 2011.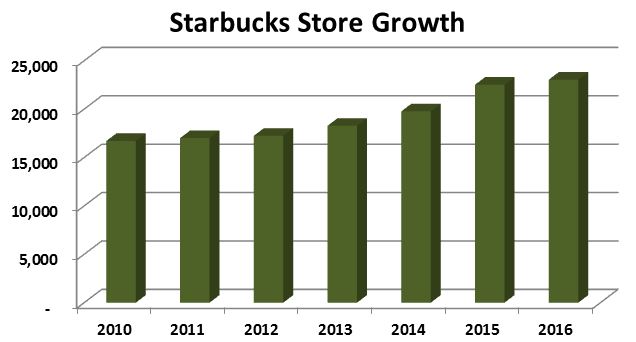 Source: Chain Store Guide's 2016 Database of Chain Restaurant Operators