Fresh off its $3 billion purchase of ecommerce startup Jet.com in August, recent announcements of cuts to capital expenditures and new building initiatives reinforce Walmart's pivot to ecommerce.
Next year, Walmart expects to cut capital expenditures by 10% (to $6.1 billion) and build a decades-low 55 new US stores (35 supercenters and 20 Neighborhood Market stores), down from the 130 new stores the world's largest retailer anticipates opening this fiscal year (Fiscal 2017 ending 1.31.17).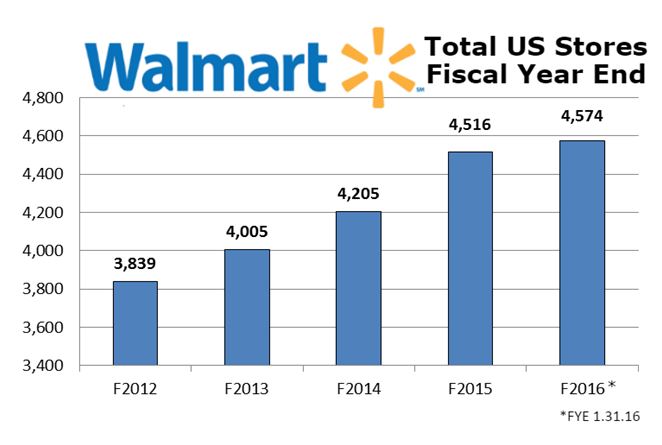 Source: Chain Store Guide's Database of Discount, Dollar & Specialty Stores. *CSG Projection. Estimated growth is based on proprietary trend analysis and company comments. Actual figures are subject to change. This data is not intended for investment decisions.
According to the company, some of the spend not going to new stores will be invested in the relatively large number of stores aging into the remodeling window but a significant chunk will got to further ecommerce investment. Walmart ecommerce sales were up 11.8% at the end of its second quarter (7.31.16), and the company projects that the rate of growth will gain further momentum in the second half of the year.
To meet the anticipated demands created by large-scale ecommerce growth, Walmart announced that it would double the number of "giant" US warehouses dedicated to online order fulfillment to 10 by the end of 2016 and complete construction on an 11th location in the first quarter of 2017.