If you're going out for Tacos on Tuesday, then there is a good chance you are headed to Taco Bell. The fast-food chain is by far the most widespread amongst all taco restaurants. Taco Bell's 7,775 locations are more than double their closest competitor, Chipotle, at 2,962. They make up almost 50% of all chains that sell tacos in North America which also means that the quick serve foodservice type also makes up 50% of this segment. Tacos are widely available across North America, yet the highest concentration of headquarters are in Texas and California. Even for those not located in the southwest, there are over 20 locations in Washington, Illinois, and New York. Whether you are looking for a large chain like Taco Bell and Chipotle or a smaller one like Fuzzy's Taco Shop, there is no shortage of varied and diverse taco options available on a Tuesday or any other day.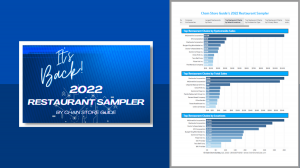 For an interactive version of this chart and more, check out our
2022 Restaurant Sampler
available at our NRA 2022 booth 5305 this Saturday. It will be available for access and download online on May 21
st
.