The final quarter of the year has begun and the stage is set for a boom or a bust. 2021 was on track to be a year of recovery after a difficult 2020 and for the most part that has been true. The delta variant and the return of some local restrictions have slowed the momentum; however, widespread availability of vaccines and innovations from last year has softened the blow. The upcoming holidays are carrying lofty expectations for retailers and restaurants with most expecting the bulk of their economic recovery to come in the final months. This could be the most successful holiday season ever and the pent up demand from consumers is palatable. Despite the desire from consumers to go out and spend this year, there are problems lurking in the background that could derail the whole operation. The delta variant has revived spending hesitation and numerous supply chain issues continue to dog every industry. Will the supply live up to the hype or will unrealistic demand set us back?
The entire year has been building towards these last few months and there is an odd bit of uncertainty despite all of the preparation. Part of that is due to the shopping season starting earlier than normal in an effort to boost revenue and it could spread the holiday spike over a larger period. We are still predicting a large spending spike for November and consumer demand is backing that up. Shoppers are ready to return to stores and take full advantage of the physical and digital integration that has been developed over the last year and a half. Restaurants have seen massive growth and their commitment to digital ordering has given them a strong offering to pair alongside traditional dining. The upcoming months have the chance to radically shift revenue in an upward direction within a time frame that previously seemed impossible.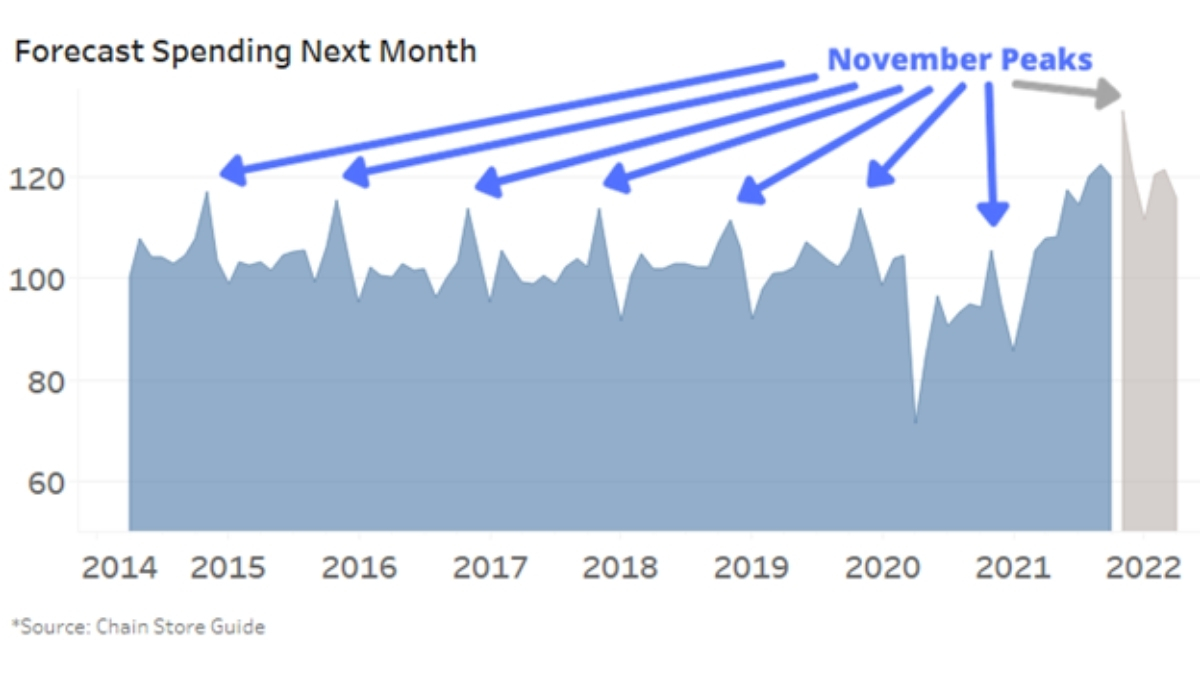 With so much aggregate demand, stores have to make sure there are items on shelves and restaurants need to have enough supplies to fill dining rooms. The supply chain has been a mess since the beginning of the pandemic and some issues were never ironed out. Restaurants have rationed sauce packets and manufacturers for retail have found it increasingly difficult to obtain chips necessary for electronics and automobiles. Most companies are aware of these shortages and have been preparing for the entire year. Starting the season early could mitigate some of the supply pressure; however, there are still empty spaces on shelves. If there is one thing restaurants and retailers dislike, it's turning away customers or displaying vacant shelf space. Those spaces need to be filled and this has created a great opportunity for lesser-known vendors to get their foot in the door. Retailers need to find these new vendors and they need to do it now. New brands will be able to get in front of customers during the busiest time of year and they could find permanent new homes.
Beyond the supply chain, there are some other issues that could derail our positive projections for the fourth quarter. The delta variant has caused some companies to return to distancing and operating hour restrictions. There have also been several cities that have instituted a vaccine mandate for indoor venues that will certainly impact consumer traffic, particularly in restaurants. The lingering concerns of the variant could make it more difficult for customers to visit their favorite stores and it could make them think twice about big spending. Unemployment is another factor that could impact the projections for a spending spike. Industries like restaurants are still having issues finding hourly employees and holiday hours with seasonal workers could exacerbate this problem. Some companies are still operating on shortened hours due to staffing and it remains to be seen if they will be able to extend those time frames to take advantage of high demand, especially during events like Black Friday. The final potential problem is a looming government shutdown. It would affect the built up shopping demand of many Americans and it would have far reaching financial consequences. This event carries a significant amount of uncertainty, though if congress moves swiftly enough it can be avoided altogether.
Despite some potential pitfalls, our projections are still high for the fourth quarter. Supply chain hiccups have afforded vendors an unprecedented opportunity to form relationships with major retailers and restaurants, relationships that could last far beyond the last few months of the year. This holiday shopping season is the chance for many companies to undo some of the financial damage caused by the pandemic. Many businesses have already seen a significant amount of growth this year; however, if November passes without a spending spike it would be a blow to an otherwise successful year. If everything goes off without a hitch, we project that this will be a banner year that will rewrite record books for the holiday shopping season.
#CSGpolls – Will the 2021 holiday shopping season be one of the highest grossing in history?https://t.co/YO9PYf5xfz

— Chain Store Guide (@ChainStoreGuide) October 7, 2021