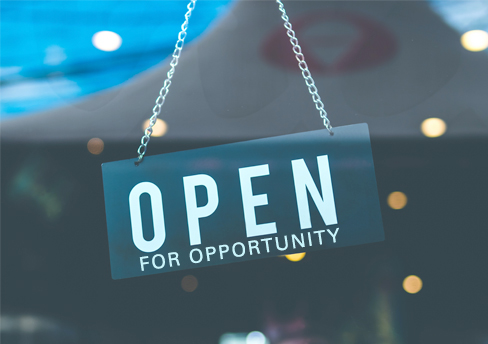 America may be seeing the light at the end of the suffocating COVID-19 tunnel. Guidelines have been put in place and there has been optimism about businesses reopening. However, Americans must be cautious about a return to work. Many companies will want to rush to reopen restaurants and retail stores, but this could be a mistake as the needs of consumers have changed.
When retail stores reopen, daily business operations will be very different. We need only look at grocery stores and their current implementation of technology such as sneeze guards for cashiers and checkout lines with designated standing areas to glimpse the future. If sneeze guards make sense for cashiers at Publix, then they also make sense for cashiers at Ross. Digital technology will be of paramount importance as stores will look to install mobile payment options and self-checkout kiosks. Some of these technologies were trending upward before COVID-19 and the race to adopt them will only intensify. Real estate will be up for grabs and there will be opportunity to expand, but past economic downturns have provided test cases like Forever 21 that should ward against aggressive over expansion. Companies will have to think critically about how to keep shoppers and employees safe without major inconvenience and the disruption of normal business.
As wonderful as it would be to return to our favorite restaurants, it may be some time before they see a packed house on a Friday night. When dining rooms re-open they will likely be limited to a small group of around 10 customers and large families may even be forced to sit at different tables. Initially, people may be reluctant to venture out, but there is a reality that guests will begin to outgrow the limited seating. Most businesses are used to turning away customers on a busy night when they are packed to capacity, but turning away a customer when half of your dining room is empty is a more daunting prospect and to combat this, many restaurants will move towards requiring a reservation to dine in. There will be other logistical issues as kitchens will have to balance an increasing delivery demand and dining customers against a reduced staff. In addition, mobile payment technology will be paramount for safety as the use of paper money will see a sharp decline. Prior to the COVID-19 outbreak, there was focus from companies like Starbucks on more environmentally friendly and reusable containers. For health concerns these kinds of programs were halted before dining rooms closed and they are unlikely to resume in the near future. Customers may be more reluctant to use silverware and glasses at restaurants which means sanitary single use items will see an increase along with sealed beverages being favored over soda fountains and beer taps. Large physical menus are also likely a thing of the past as restaurants will opt for disposable and digital menus. Restaurant workers will be wearing face masks and gloves and it is possible that guests would be required to do the same.
As America begins to look towards a more familiar future, there are still needs to be met. Permanently closed stores will provide valuable real estate for those who invest and stores that are able to reopen will need strategic innovations. Plexiglas barriers and decals need to be manufactured to keep shoppers safe and uphold social distancing guidelines. Restaurants will need disposable menus and silverware and personal protective equipment as consumers begin filtering into dining rooms. Caution should be the main focus going forward, but there is room for optimism for those willing to adapt. The manufacturers and service providers that work with retailers and restaurants during this transition will be the ones that have a better chance for prosperity this year. Utilize Chain Store Guide as your primary resource for building relationships and closing deals with the chains that need to make this shift.  It's time for both shops and suppliers to get ready for us to start opening for opportunity.