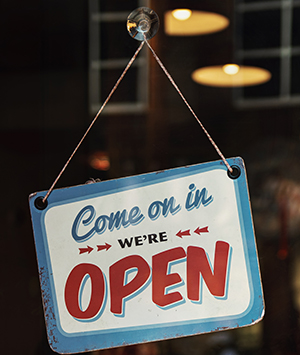 As states begin to ease restrictions on stay at home orders, businesses have difficult choices to make. States like Georgia and Tennessee have already begun the process of reopening "non-essential" retailers and restaurant dining rooms. We have previously written about what business would look like when the doors open and we are now seeing some of those changes take place.
The restaurants that have performed the best during this pandemic have been quick serve, and fast causal chains with a strong digital presence and reliable delivery infrastructure. Quick serve restaurants are designed to move quickly with cooked to order meals and no table service such as Burger King and fast casual restaurants utilize less processed ingredients and charge a higher price while also not providing table service like Blaze Pizza. Chipotle Mexican Grill Inc. has reported positive sales during the shutdown and Chick-fil-A Inc. has seen no downturn in customer base. These stores have established a new business model and seem reluctant to instantly reopen dining rooms. Chick-fil-A specifically has said that they have no plans to reopen right away as Georgia is resuming dine in services. Conversely, full-service restaurants that primarily relied on the strength of their dining rooms have been hit the hardest and are looking to reopen as soon as possible. Restaurants chains such as BJ's Restaurants Inc. and Smokey Bones Bar & Fire Grill who did not have developed off-premise systems have struggled and are hoping relaxed restrictions will cause a surge in orders. Takeout and pick-up will still be the primary means of revenue for restaurants and they will have to manage a reduced staff while catering to online orders and the reopened dining rooms.
Further complicating measures for both restaurants and retailers will be the logistical concerns of operating in multiple states. Every state seems to be taking their own approach as Georgia has limited restaurants to 10 customers per 500 square feet and Texas has announced that dining room capacity will be capped at 25%. The logistics of reopening will only get more complicated as more states begin lifting stay at home orders with unique guidelines. Restaurants should be prepared to reopen with flexibility, but they should not abandon the development of their digital sales platform.
Non-essential retailers have started opening across the U.S and malls will be the focus of attention as Simon has announced the reopening for 49 of their malls in certain states. Simon and many other retailers are implementing temperature checks, one-way isles, and capacity limitations on a per foot basis. The new normal could be appointment shopping  as even large chains like Best Buy are planning to use the model. This strategy would involve customers signing into an app to choose a shopping time and items of interest. Once at a store the customer could be followed by an employee who will sanitize everything they touch for the duration of the visit. Much like restaurants, all employees will have masks and many will provide masks to shoppers. Measures like these will help make shoppers feel safe, but the format may not be conducive for getting customers in store.
The record unemployment in the U.S. will also be a factor as unemployed Americans will likely want to focus their funds on essentials over luxury items. However, those who have been employed throughout the shutdown will be more likely to venture out and support their local businesses. As America returns to work, unemployment will subside and shoppers will have a renewed confidence. Flexibility will key for retailers as they attempt to accommodate shoppers who prefer brick and mortar and those who wish to keep their distance.
Short and long term measures are being put in place by restaurants and retailers alike as we transition back to a sense of normalcy. Close attention will need to be paid to the guidelines present in each state to help sort out logistical issues. Transparency will be an important factor in the reopening as eager shoppers will want to know the steps being taken to protect everyone's health. There will not be a rapid reopening process, but a slow and measured approach will lead to success as we move forward.
Silver lining for suppliers, manufacturers, and service providers? Businesses will be reopening to include their bolstered online and delivery methods which means greater opportunities for new products on virtual shelves. There will also be a call for new offerings to draw in customers as simply "going to the store" may not be enough to compete with the simplicity of online ordering. From dining room redesigns to safety installations, fixtures providers will be essential to the reopening process and all aspects of foodservice may need to review more flexible vendors if the state-by-state logistical issues continue past the short term. In all, opportunity is waiting for those who adapt and Chain Store Guide is here to be your data concierge, bringing you the valuable connections needed to reopen your revenue stream.