The strain on the restaurant industry has become almost unbearable. Last week COVID-19 caused most restaurants to close their dining rooms and focus on drive-thru, curbside pick-up, and delivery options. This week, the virus has caused some restaurants to close their doors completely and others have had to shift their delivery methods.
On Monday, news broke that McDonald's Corporation would be shutting down all of their stores in the UK and Ireland and it is perhaps a sign of things to come. In an unprecedented announcement on Wednesday morning Waffle House Inc. stated that it will be closing 429 locations in the U.S. Over 1,500 locations will remain open, but more closures could be imminent. As other restaurants weigh partial or full shutdowns, the foodservice sector has had to adapt its traditional delivery systems.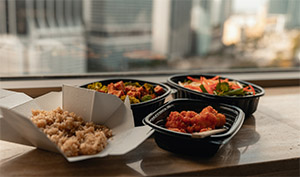 To stop the spread of the virus, restaurants like
Quaker Steak & Lube
and
Saladworks Inc.
have moved to a contactless delivery and pick-up method. Pizza chains have also adopted the drop off style system and even offer contactless carryout. This focus on delivery has caused chains like
Hungry Howie's Pizza & Subs Inc.
and
Papa John's International Inc.
to hire new workers in droves. Other chains that were less optimized for delivery have suffered considerable losses. Workers have been laid off and sales have plummeted for these companies. Third party delivery apps have helped to offset this somewhat by waiving sign up fees and differing payments, but this is not enough.
The National Restaurant Association recently sent a letter to the White House asking for relief measures. On Wednesday morning, Congress heeded the call for help and passed a bill for more than $2 trillion that should aid both small and large companies alike, but restaurants will have to be vigilant as they await these relief efforts. In the meantime, the restaurant industry must evolve to meet these new standards as states move towards stay at home orders and discuss implementing curfews. Luckily, customers still want to eat at their favorite restaurants even if that means the food is delivered from afar and eaten on a couch. Stay tuned to your local and national foodservice associations for more information on how industry professionals can help make their voices heard.
Thankfully, there have been some positive developments from this outbreak. Many restaurants have created programs to donate food or funds to existing programs for children and others in need. The demand for these programs has only increased as schools have shut down and many children have lost access to two of their daily meals. Local restaurants have also been delivering free meals to health care workers and first responders who are on the frontline of this fight.
Restaurant chains are doing their part to keep America safe through new contactless delivery options and donation programs. Suppliers can do their part by making sure that food is a solution and not a problem during this outbreak. Chain Store Guide is also doing its part, as it had over 85 years ago during The Great Depression, to provide suppliers of the restaurant industry with essential contact information to reach the decision makers for restaurant chains. The success of the foodservice industry lies with the flexibility of restaurants and the supply chain from manufacturers; become a part of the revolution by feeding America and contact the chains that need your products now. With the cancellation of the NRA 2020 Restaurant Show, the industry is left with a significant void of B2B revenue generation and CSG is here to support manufacturers so they make the connections that they would have made in May.