Home Depot & Lowes: Graphing the Results
With this morning's Lowes earnings release, we now have results in hand from both home-improvement retail giants. As usual, Home Depot was the first out of the gate with its results yesterday. On the whole, said results disappointed analysts as the company reported an earnings miss for the fourth quarter. In terms of US comparable store sales, the company delivered its lowest quarterly gain (3.7%) in more than 3 years.  Home Depot execs also tempered their 2019 sales forecast amid fears that hiccups in the housing market may push sales down. The good news? Fiscal 2018 sales were up 7.2% to $108.2B and US comp sales were +5.4% on the year. Not too bad.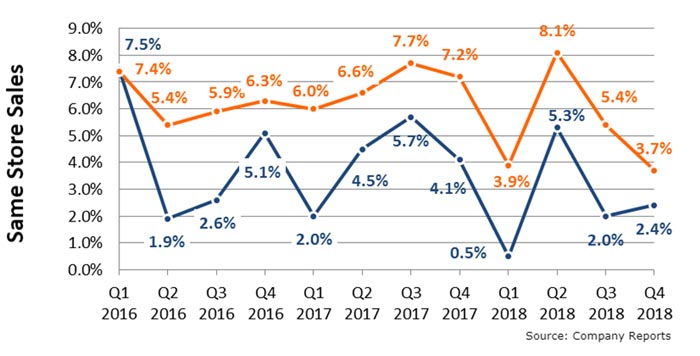 For its part, Lowes results were also mixed, and quantitatively lower than its rival, but observers saw signs for optimism. US comps for the quarter were 2.4% and net sales on the year were $71.3B up from $68.6B last year in the fact of an optimization program that will see the company return focus to its core business by shuttering operations in Mexico, along with the Orchard Supply Chain.