Five Potential Dine Brands Acquisitions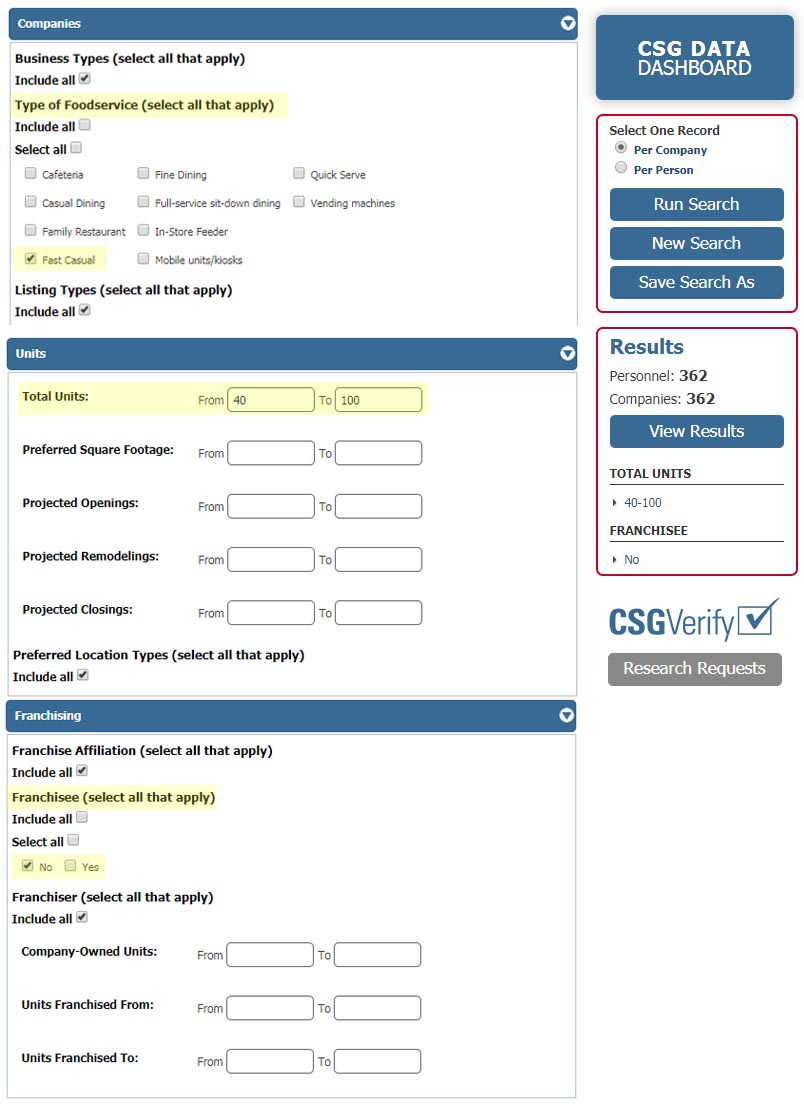 Click Image to Enlarge
 How We Narrowed the List
1. To develop a list of potential Dine Brands acquisition's targets, we turned to CSG's Premier Restaurant Franchisee Database. Database subscribers can pull this list for themselves (or contact your rep, who can pass along the Excel file we created).* To get things started, we set the "Units" filter to 40 to 100 (slightly padding out the top end of the footprint provided by Dine Brands CEO).Database Results: 682 companies
2. We then chose the "Franchising" option to filter out companies that predominantly franchise from established chains, as we're looking for acquisition targets, not franchisees of those chains.Database Results: 362 companies
3. Assuming that Dine Brands is looking for a fast-casual concept to diversify its portfolio, we used the "Foodservice" filter and selected "Fast Casual," filtering out Casual, QSR, Fine Dining, and Cafeteria chains to name a few of the additional options.Database Results: 94 companies
4. Having ID'ed 94 restaurant companies with a fast casual concept and 40 to 100 locations, we then used the "Export" feature to download the data on these companies to begin our company-by-company review.
Coming off a year that saw Applebee's put up its best comp numbers since 1993, Dine Brands is feeling good about its prospects for 2019. So good, in fact, that CEO Stephen Royce took the opportunity presented by last week's earnings call to confirm that company is still in the market for a third concept. During the discussion, he pitched 18 months as a timeframe and mentioned that an acquired company would likely have between 40 and 80 locations.
With the 40-80 unit criteria in mind, we turned to CSG's Restaurant Franchisee Premier Database (the same one that's available to our subscribers) to narrow down the potential targets and came up with a list of five that we like.
Rumored target Pei Wei isn't on the list as we've largely taken Royce at his word, while bumping the top end up to 100 units. The other guiding assumption we made was that Dine Brands will target a fast-casual concept, providing a bit of diversification to its casual portfolio.
With those criteria in mind, our initial list totaled 94 companies (check out the sidebar on this page to see how we drilled down to this number using the database). Among the results were some great companies that we thought might not be a great fit with Dine Brands, companies like Taziki Mediterranean Cafe (perhaps a bit too niche), Chopt (a bit too green?), and Torchy's Tacos (a bit too rough around the edges, by design). So which concepts stood out?
Slim Chickens: With nearly 80 locations, primarily in the southern half of the US, Slim Chickens has methodically grown its footprint over the last 5 years. The concept is approximately 90% franchised, and it has dipped its toe in international markets (UK and Kuwait).
Mooyah: If burgers are on the menu, Mooyah may be it. Founded in 2007 and in expansion mode since 2011, Mooyah has stalled around the 100-unit mark. However, the potential to build out to the 1,000-unit mark that Dine Brands seeks may be there. Mooyah boasts 10 locations in the Middle East.
Piada Italian Street Food: Look it up. Slick fast-casual with 40+ units and that new car smell. 100% company owned at this point, though.
Ono Hawaiian BBQ: Offering freshly prepared plate lunches and other Hawaiian-inspired food that would surely work for the Applebee's crowd, this 80-unit California and Arizona concept would be a breezy gift for Dine Brands marketing team. Also, it's extremely delivery-, catering- and takeout-friendly.
Costa Vida: Like Slim Chickens, Costa Vida has been around since 2003, and it too is approximately 90% franchised. The fresh Mexican grill concept has grown steadily, and the company has units dotted across the US and Canada. Burritos, salads and nachos platters are focus, but fresh is the key and there's room to further leverage the coastal vibe.
If our fast-casual assumption and Dine Brands hints as to the size of its next concept hold true, one of these five concepts may be sitting next to Applebee's and IHOP in the portfolio by the year's end. Regardless, any acquisition is sure to provide a test as to whether Dine Brands can maintain the newly-discovered Applebee's momentum and its IHOP marketing mojo (IHOB, anyone?) while bringing a new chain on board.
*Excel data file only available for current CSG Restaurant Franchisee Premier and Chain Restaurants & Franchisors PLUS subscribers.