Personnel Updates
• A&W Restaurants (15) added "President" to COO Paul Martino's title and expanded his remit to oversee development of US franchises.
• ARC Restaurant Group (Dick's Wings) (5) expanded CFO Seenu Kasturi's role to include those of the CEO. Former CEO Richard Akam continues in his other role as COO.
• Caribou Coffee (40) appointed John Butcher to the post of President and CEO. Butcher had served the company as its President.
• Chanticleer Holdings (10) named Patrick Harkleroad as its new CFO and Troy Shadoin as Chief Accounting Officer.
• City Barbeque Inc. (15) named Mike Muldoon as President and COO.
• CraftWorks (12) named Josh Kern to the newly created position of Chief Experience Officer and Jason Brumm as VP of Culinary.
• Domino's (72) welcomed Stu Levy as EVP Supply Chain.
• Dunkin' Brands Group (81), promoted Tom Manchester to SVP, Integrated Marketing, Dunkin' U.S. and Jonathan Biggs to VP of Operations, Baskin-Robbins US and Canada. In another move, Rick Gestring was appointed VP of Operating Systems and Restaurant Experience, Dunkin'.
• Dutch Bros (15) Coffee named Joe Ricci President.
• Fiesta Restaurant Group (19) named Louis DiPietro SVP, General Counsel and Corporate Secretary.
• Fogo de Chao (12) promoted President Barry McGowan to President and CEO, while Larry Johnson transitions to the Chairman role.
• Huey Magoo's Restaurants (5) promoted Michael Sutter to COO.
• Just Salad (14) named Janani Lee Chief Sustainability Officer, a newly created position.
• Kona Grill (10) co-CEO Steve Schussler resigned, leaving CEO Marcus Jundt all alone at the top.
• MOD Pizza (33) named Mark Shambura its new Chief Marketing Officer. Shambura had been Exec Director of Marketing at Chipotle.
• On The Border (21) named Luis Ruvalcaba Jr. as its new COO. Ruvalcaba comes to the company from Peet's Coffee.
• Panera Bread (61) brought in Karen Kelley as SVP, Chief Restaurant Operations Officer and Anita Vanderveer as SVP, Chief People Officer.
• Red Robin (41) announced that Fiesta Restaurant Group CFO Lynn Schweinfurth will join its leadership team as CFO on January 25.
• Sage Restaurant Group (12) hired Brent Berkowitz as its new COO to replace co-Founder Peter Karpinski who cedes control of day-to-day operations.
• Stonefire Grill (10) brought in Scott Thomas, formerly of Cheesecake Factory to serve as EVP.
• Subway (87) named Roger Mader as interim Chief Marketing Officer as it searches for a fulltime replacement for the retired Joe Tripodi. In other news, VP of North America James Walker resigned abruptly. Ian Martin, VP of International becomes acting Chief Business Development Officer to oversee both International and North America.
• Tom's Urban (7) appointed Jane Crouse to Director of Training and Development, Lori Belloir to Director of Design and Communication, and Joanna Sanchez to Vice President of National Event Sales.
• Torchy's Tacos (20) appointed Scott Hudler to the position of Chief Marketing Officer and Elizabeth Baxter as its new Chief People Officer. Both positions have been newly created.
• Wetzel's Pretzels (16) co-founder and CEO Bill Phelps stepped down to be replaced by Jennifer Schuler. Phelps will remain on the board.
Financial Focus
• Ark Restaurants Group reported FYE 11.29.18 revenue of $160M, up 4% from the previous year.
• Del Taco preliminary FY18 results include systemwide comp sales of 2.5% and revenue of $505 million, up 2.7% from 2017.
• Gigi's Cupcakes and Mr. Gatti's Pizza (same owner) filed for Chapter 11 bankruptcy.
Industry Insight
• Captain D's turns 50 in 2019.
• Chop Stop, a small LA-based salad concept, signed a franchise deal that will establish a presence in Texas by the end of the year.
• Del Taco projects 25 restaurant openings in 2019. The company will also look to refranchise 50 to 60 restaurants to bring percent of company-operated units down to 45% from 55%.
• Domino's announce that it plans to add 9,700 stores globally by the end of 2025.  2,000 of those stores are planned for the US.
• Dunkin' rolled out its new branded packaging nationwide.
• Dutch Bros. Coffee seeks to add approximately 500 stores in the next 5 years. The company also plans to double its systemwide sales in that time to $25B.
• The Great Greek Mediterranean Grill, a concept by United Franchise Group, will open 5 new restaurants in the first quarter.
• Kona Grill received a notification from NASDAQ that it could be delisted as the company stock price has fallen so that the company's valuation doesn't meet NASDAQ's $15M minimum.
• Peet's Coffee purchased a controlling interest in a California kombucha brewery, Revive, and will feature the brand in its stores.
• PINCHO is the new name for the 11-unit Florida chain that had been Pincho Factory.
• Rush Bowls, a small Colorado based salad chain, grew from 3 to 11 units last year and looks to add another 5 to 10 units this year through franchising.
• Scooter's Coffee could open between 80 and 100 new locations this year after receiving an influx of capital from an early-2018 private equity investment.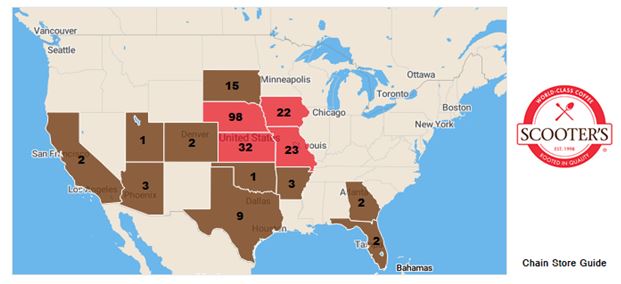 • Starbucks walked back the 2016 claim that it would open 1,000 Reserve coffee bars. CEO Kevin Johnson recently said that, instead, the company will open 6 to 10 locations to test the concept.
• Walk-Ons will attempt to double in size in 2019 by adding 20 new locations.
Mergers and Acquisitions
• Chicken Salad Chick purchased the 11 restaurants owned by its largest franchisee. The stores are located in Atlanta and throughout Georgia.
• Firebirds Wood Fired Grill was acquired by private equity JA Whitney. CEO Mark Eason will stay on in his current role.
• P.F. Chang's private equity owner Centerbridge Partners has agreed to sell the chain to TriArtisan Capital Advisors, but Centerbridge will retain control of Pei Wei Asian Kitchen.
• Taco Bueno completed its sale to Sun Holdings.
Real Estate
• Black Bear Diner opened its first location in Montana. Further expansion east of the Rocky Mountains is on tap for 2019.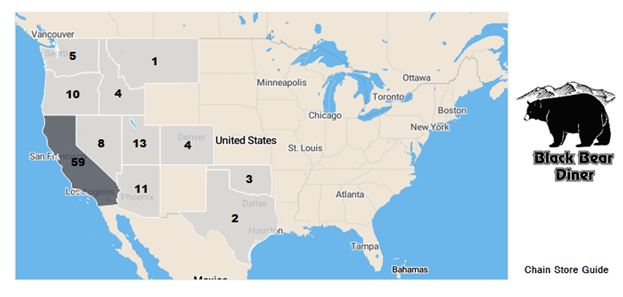 • Capriotti's Sandwich Shop will expand to Rhode Island in April when the first of three stores planned for the state opens.
• CAVA is expanding to Nashville, with one unit opening in 2019 and another in 2020.
• Chicken Salad Chick will add 40 restaurants in 2019 and expand out of the Southeast with stores slated for Indiana, Ohio, Missouri and Illinois.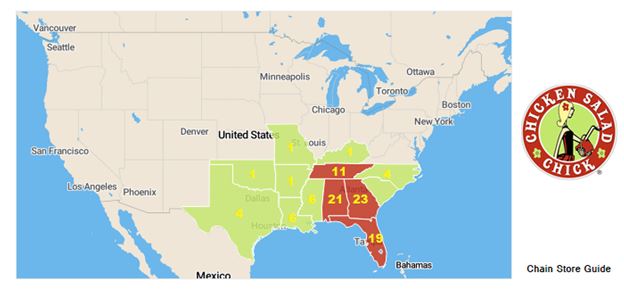 • Cousin's Subs of Wisconsin opened its first Illinois location, a store in downtown Chicago. The franchisees expect to open another 5 stores per year in Chicagoland as they build to 40.
• Dairy Queen plans to target a number of US markets for expansion of its Grill & Chill concept in the coming year, including Sacramento, CA; Charlotte, NC; Orlando, FL; Rochester, NY and Austin, TX.
• Fiesta Restaurant Group closed 23 restaurants in Florida, Georgia and Texas. The numbers include 14 Pollo Tropical locations in Florida and Georgia and 9 Taco Cabanas in Texas.
• Huey Maggo's, a small Florida-based chicken tenders chain, is expanding to South Florida and the greater Atlanta metro area.
• Sonic will open its first location in Alaska (Wasilla) in 2019.
• Trident Holdings LLC, the largest Captain D's franchisee acquired 10 company-owned stores in Mississippi and plans to develop 10 additional locations in the state in the next few years.
• Which Wich opened its first location in the state of Connecticut in New Haven.
• Wing It On!, a small Connecticut-based fast casual, expanded into New Jersey.
Just because we don't mention it here doesn't mean it didn't happen – or we didn't capture it. In the past four weeks, we've updated more than 800 companies in the Restaurant Franchisee Premier Database, with many of those companies' records updated at multiple points.