Walmart.com Expands Brand Offerings via Moosejaw
Less than two weeks after announcing that its ecommerce sales grew by 40% in the second quarter, on Monday, Walmart made a move to stoke the digital fire when it introduced a Moosejaw storefront on Walmart.com. As Walmart increasingly finds its footing in its ebattle with Amazon, brands are shaping up to be a large part of the story for 2018.
Acquired by Walmart in early 2017, Moosejaw is a brand-focused outdoor and apparel retailer whose target audience skews younger than the typical Walmart enthusiast. As of Monday, Moosejaw fronts the Premium Outdoor Store on the flagship Walmart site, providing a means for Sam's army to feature higher-priced outdoor and apparel brands as well as Moosejaw-branded products.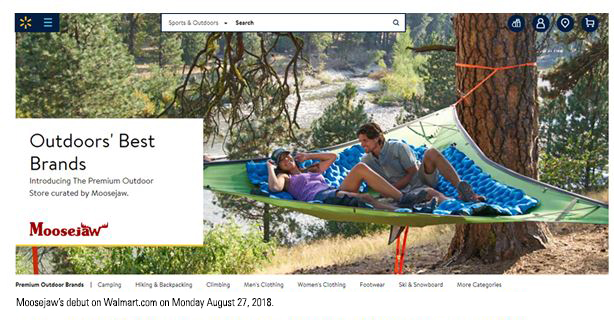 It's the first "currated" microsite for one of Walmart's growing portfolio of higher-end retailers and likely not the last (we're looking at you, Bonobos). Earlier this summer, Walmart looked outside of its own orbit and struck a deal with Lord & Taylor that finds that retailer renting space to run a Premium Brands store on Walmart.com.