At long last, the deal that has resurfaced more times than Obamacare repeal is moving forward (for real this time – we think).  Walgreens Boots Alliance Inc. can finally spend some of those billions that have burning a hole in its pocket for the past two years as it has tried to acquire Rite Aid. Last week, the company received (begrudging) FTC approval for the latest iteration of the deal that will see Walgreens purchase 1,932 Rite Aid stores for a cool $4.4 billion.
The deal is about half the size of the proposed Walgreens acquisition of Rite Aid that was abandoned this summer when the FTC wasn't satisfied with a Walgreen plan to unload 800+ stores on Fred's after the proposed merger.
Walgreens will begin purchasing stores next month and wrap up the process early next year.
The following figures provide some context for the deal. The first shows the current footprint of Walgreens and Rite Aid stores at the zip code level. Click on the images for a larger, interactive version.  The second figure presents a quick sketch of the relative size of the three largest US drugstore chains after deal is done (minus organic openings and closings).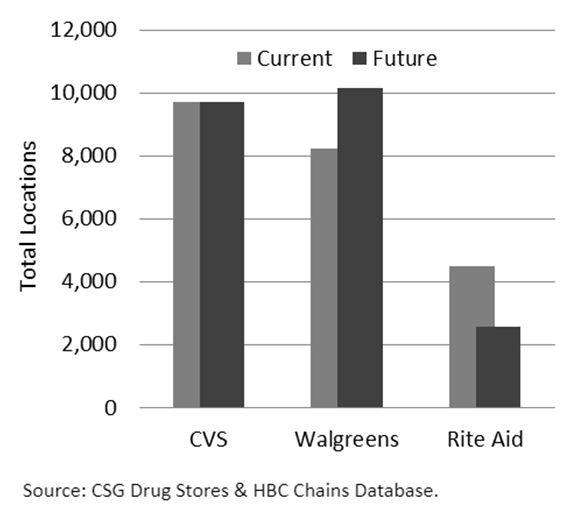 Much more precise than mapping to the zip code level, Chain Store Guide offers its clients and customers geocoded location data for every storefront operated by the major drug chains via our Drug Store Locations Database. For companies looking for leads, our Drug Stores & HBC Chains Database contains 5,400 company listings and personnel information for 12,700 decision makers.