Twenty Companies Opening 80+ Stores This Year
Chain Store Guide's research and editorial teams have all chipped in this month to come up with twenty national retailers and restaurant chains that are smack dab in the middle of a growth spurt. So let's get to it. Here, then, are the twenty companies and a few of our notes on them.
Notes
Faced with this summer's arrival of discount competitor Lidl in the US, Aldi plans to grow from its current base of 1,600 stores to reach 2,500 US stores by 2022 (while remodeling 1,300 existing stores in the next three years) . . . Blaze Pizza, which seems to be positioning itself for an IPO in the coming years, embarks on a plan to grow the chain by 100+ units per year for the foreseeable future  . . . In addition to more than 100 new stores, Casey's General Store is replacing 30 existing stores and converting 100+ more stores to include pizza-delivery capabilities . . . Chick-fil-A's projected 135 new units is in keeping with its historical trends . . . Chipotle opened 50 new stores in its most recently completed quarter . . . Dollar General opened its 14,000th store, part of the company's effort to add 1,000 stores in its current fiscal year . . .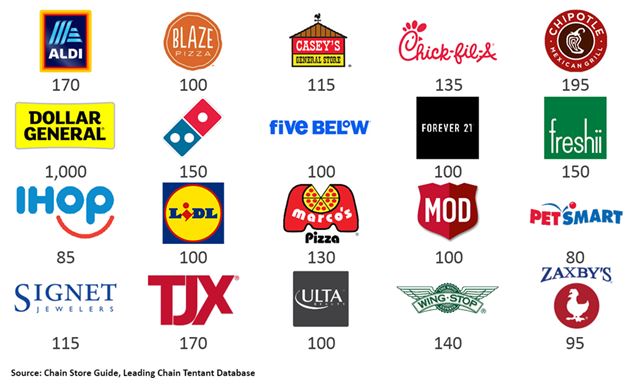 Out of the 900+ new Domino's stores opening worldwide this year, about 150 will be in the US . . . Five Below just opened its first stores in California in April, and there's plenty of room for growth for the 575-unit discounter . . . Of its 100 projected openings, fast-fashion giant Forever 21 will open 40 or so F21 Red locations, the company's off-price banner . . . Newly public Freshii had an awful Q2, but investors expect growth, and Freshii will provide it in the form of new stores . . . IHOP's DineEquity sister restaurant Applebee's is shuttering 130+ restaurants, but expect 85 or so new IHOPs to dot the US in the coming months . . . Official statements from Lidl say 80 US openings in its first year; we say at least 100, but expect more from this notoriously tight-lipped company that thrives on the motto of "under promise and over deliver" when it comes to growth . . . From 2014 to 2016, Marco's Pizza grew from 433 to 800 franchised locations; more growth to come . . . Speaking of pizza and growth, MOD Pizza added 100 units (exactly) last year and plans to do it again . . . After shelling out $3.35 billion dollars to acquire online pet retailer Chewy.com in May, money may be tight, but we expect PetSmart to continue on its recent physical growth trajectory . . . Signet Jewelers is closing more locations than it's opening, but up to 115 new stores are in the works, most of which will be Kay Jewelers off-mall locations . . .TJX will grow by approximately 170 stores, which will include HomeSense locations for the first time in the US . . .  Ulta Beauty recently passed the 1,000-store mark, and there's no sign of openings slowing down . . . Wingstop  will also see its 1,000th US store before the year is out, and the company has a stated desire to become a top 10 global restaurant brand; store growth is needed as recent quarters have seen sluggish same-store domestic sales . . . Chicken is king in the QSR and fast-casual space, and 800-unit Zaxby's will add another 95-100 units this year.
If any of these businesses might be a good fit for your business, our Leading Chain Tenants database contains more than 600 personnel listings and contacts for these 20 companies alone.