As we noted last month, discount giant Lidl opened its first US stores in June, and with three openings in August, its footprint stands at 24 stores.  This month, using Chain Store Guide's Grocery Market Share Report and Custom Proximity Analysis, we take a closer look at one of those new stores, one of four in Richmond, VA.
The Richmond market is hypercompetitive. Longtime stalwart Martin's closed the last of its Richmond stores earlier this month, meaning Martin's 18% market share is up for grabs.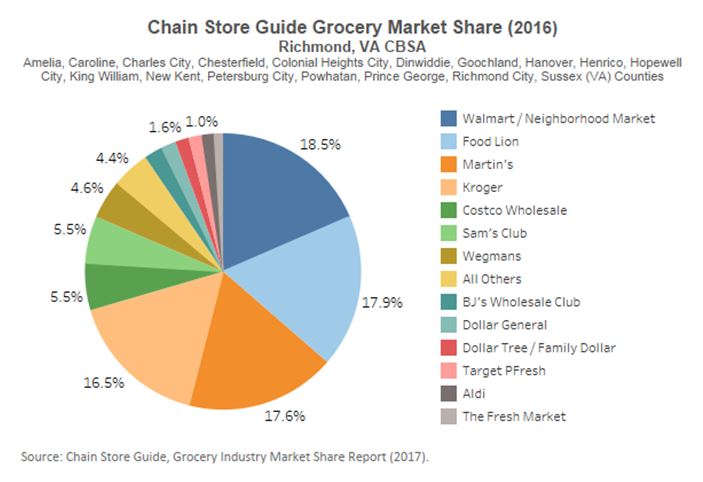 Florida-based Publix purchased many of Martin's Richmond locations. The company opened its first three stores in Virginia in Richmond this summer (one is less than a mile from Lidl's eastern Henrico County store, as seen below) and has immediate plans for seven additional area locations.
With Publix entry, the Richmond market also became the first to host the much-anticipated head-to-head clash between Publix and New-York based Wegmans, the latter of which is also a newcomer to the area, having opened two stores in 2016. A year prior to Wegmans arrival, Lidl's global discount rival Aldi entered the mix.
All of this activity is directed towards the 1,278,463 residents in the Richmond CBSA who share an average household income of $87,500 (well above the US median of roughly $56,000) and grocery leader Walmart, which captured an 18.5% market share in 2016 (24% when Sam's factored in), according to CSG data.
The Chain Store Guide proximity report found above provides a sketch of the neighborhood and the competition within a 3-mile radius of the eastern Henrico County Lidl.
Of note, in terms of competition, the 3-mile radius is home to a Walmart, the newly opened Publix and a Kroger. In terms of total stores, Family Dollar dominates the area with five locations, in addition to a Dollar Tree, a presence in this area that is greater than the roughly 4-to-1 ratio of Family Dollar/Dollar Tree-to-Walmart stores found in the CBSA as a whole. As for Lidl's most direct of competitors, you have to extend this store's radius to 6+ miles to capture the nearest Aldi.
CSG provides clients and customers customized, detailed proximity reports that include the number of stores (and locations) in a given market, 5+ years' historical sales volume for that market, multiple market breakdowns and more. Contact us for information about competitive geographic market analysis for grocery retailers, discount and dollar stores, hardware stores, drug stores, convenience stores, apparel and department stores, quick serve restaurants and casual dining establishments.