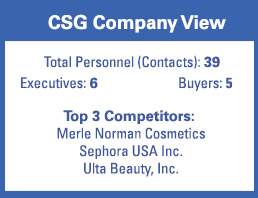 1010 Wisconsin Ave. NW
Suite 700
Washington, DC 20007
(202) 342-9800
bluemercury.com
Parent Company
Macy's, Inc.
Total Stores
131
Total Sales
$181.3 million (e)
Year Founded
1999
Trading Areas
AZ, CA, CT, DC, FL, GA, IL, MA, MD, MI, MN, MO, NJ, NY, OH, OR, PA, SC, TX, VA, WA
Senior Executives
Cofounder and CEO: Marla Beck
Cofounder and COO: Barry Beck
Senior VP, Corporate Development: Dan Brashear
Senior VP, Merchandising: Juliane Park
SNAP

FORWARD
Founded in 1999 by Marla and Barry Beck, and acquired by Macy's Inc. for $210 million in a deal that closed in March 2015, luxury beauty retailer and spa bluemercury has been fast-tracked for growth. From 60-odd stores when it joined the Macy's fold, bluemercury is projected to close the year with 165 locations, including roughly 25 store-within-a-store concepts at Macy's. As Macy's continues to struggle, bluemercury and Backstage are the two bright spots, and they'll receive the bulk of the $250 million Macy's plans to invest in its businesses.