CSG Snapshot: 84 Lumber Co.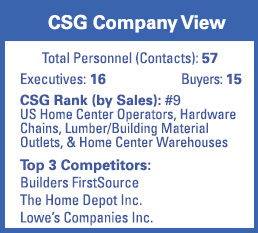 1019 Route 519
Eighty Four, PA 15330
(724) 228-8820
84lumber.com
Total Units
252
Net Revenue
$2.99 billion (e)
Year Founded
1956
Trading Areas
AL, AZ, CA, CO, CT, DE, FL, GA, IL, IN, KS, KY, LA, MA, MD, MO, MS, NC, NE, NJ, NM, NV, NY, OH, PA, SC, TN, TX, VA, WV
Senior Executives
President + Owner: Margaret Hardy-Magerko
CFO: Paul Lentz
COO: Frank Cicero
CIO: Paul Yater
SNAP

FORWARD
84 Lumber appears to be laying the foundation for significant expansion efforts. In recent weeks, the company announced that it is realigning operations into four divisions – Central, Mid-Atlantic, Southeast and Southwest. The Central division becomes home to 84 Lumber's geographic base and includes Pennsylvania, Ohio, Virginia, West Virginia and New York. Recent store openings in Massachusetts, Florida and Texas, all relatively new markets for the company, provide additional insight on things to come. CSG projects 10-15 new store openings in the next 12-18 months.
Source: Chain Store Guide, Home Center Operators & Hardware Chains Database.