Company Snapshot: Forever 21 Inc.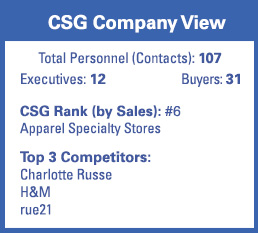 3880 N. Mission Rd.
Los Angeles, CA 90031
(213) 747-2121
forever21.com
Total Stores
815
Industry Sales
$6.5 billion (e)
Year Founded
1984
Trading Areas
AL, AR, AZ, CA, CO, CT, DC, DE, FL, GA, GU, HI, IA, IL, IN, KS, LA, MA, MD, ME, MI, MN, MO, MS, NC, NE, NH, NJ, NM, NV, NY, OH, OK, OR, PA, PR, RI, TN, TX, UT, VA, WA, WI, WV, AB, BC, ON, QC, Foreign Countries
Senior Executives
Co-Founder + CEO: Do Won Chang
Co-Founder: Jin Sook Chang
President: Alex Ok
CFO: Michael Kramer
SNAP

FORWARD
Bringing dad hats, dresses and tropical prints to the masses this summer, fast-fashion juggernaut Forever 21 continues to grow. Last year's hiccups appear to be behind the company, which plans to open 100 or so new stores in 2017. Included in the mix are 40 "family-friendly" F21 red locations and a new stand-alone beauty concept, Riley Rose. The latter will open in 10 GGP, Inc. mall properties this year with a total of 13 planned by early 2018. CSG projects 915 total units for Forever 21 at the close of 2017, which would mark a 27% increase in store count from January 1, 2016.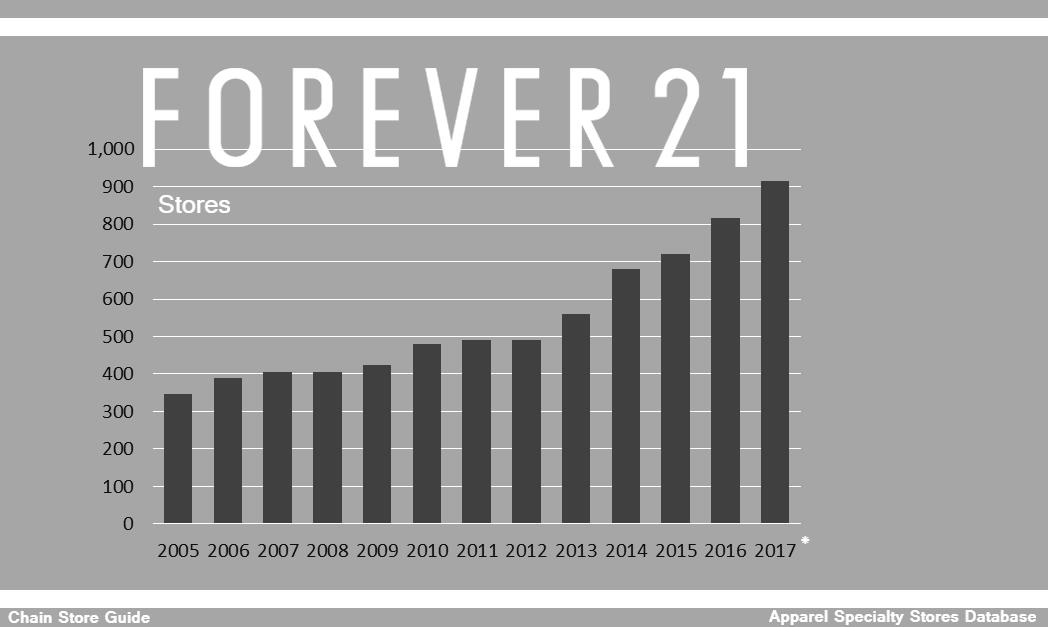 With Chain Store Guide's Apparel Specialty Stores database, you can access 4,900 apparel retailers and more than 21,100 personnel contacts. CSG researchers and editors update the database daily, ensuring our clients and customers have access to real-time company information.
*Based on CSG estimates.