CSG Snapshot: Five Below Inc.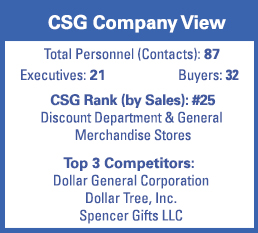 1818 Market St.
Philadelphia, PA 19103
(215) 546-7909
fivebelow.com
Total Stores
553
Total Sales
$1.0 billion
Year Founded
2002
Trading Areas
AL, CA, CT, DE, FL, GA, IL, IN, KS, KY, LA, MA, MD, ME, MI, MN, MO, MS, NC, NH, NJ, NY, OH, OK, PA, RI, SC, TN, TX, VA, WI, WV
Senior Executives
Executive Chairman: Thomas Vellios
President + CEO: Joel Anderson
CFO: Kenneth Bull
Exec VP of Merchandising: Michael Romanko
Chief Administrative Officer: Eric Specter
SNAP

FORWARD
Fifteen years in, Five Below is a billion-dollar company, and the future looks even brighter for this general merchandise discounter that counts preteens and teens as a target audience. The company just opened its first stores in California in April, it's on pace to open 100 stores nationwide in 2017, and the top brass just revised full-year revenue guidance to $1.23-1.24 billion.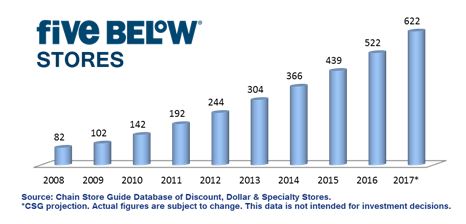 For more information, check out an Exclusive piece we did on Five Below last June.