CSG Snapshot: Costco Wholesale Corp.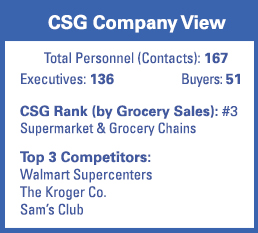 999 Lake Dr.
Issaquah, WA 98027
(425) 313-8100
costco.com 
Total Stores
732
Total Sales
$118.7 billion
Grocery Sales
$67.7 billion
Year Founded
1976
Trading Areas
AK, AL, AZ, CA, CO, CT, DE, FL, GA, HI, IA, ID, IL, IN, KS, KY, MA, MD, MI, MN, MO, MT, NC, NH, NJ, NM, NV, NY,  OH, OR, PA, PR, SC, TN, TX, UT, VA, VT, WA, WI, AB, BC, MB, NB, NL, NS, ON, QC, SK, International
Senior Executives
President + CEO: Craig Jelinek
Exec VP + CFO: Richard Galanti
SNAP

FORWARD
Costco is having itself another great year. Total sales are up 6% through ¾ of its fiscal year, which ends in August, and CSG expects that trend to play out to the tune of $72 billion or so in grocery sales when all is said and done. Global new store openings for FY2017 can be expected to reach 29 after the company opens another dozen in its fourth quarter.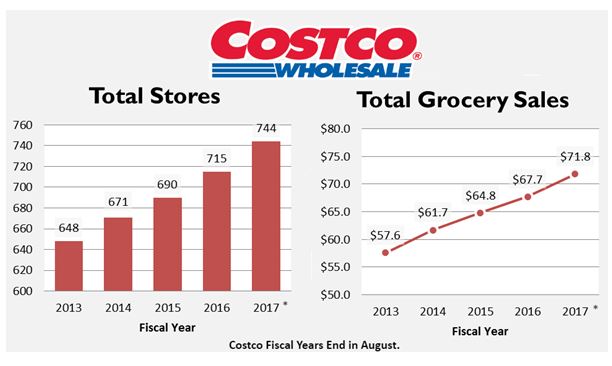 Source: Chain Store Guide Database of Supermarket, Grocery & Convenience Store Chains. *CSG projections. Actual figures are subject to change. This data is not intended for investment decisions.