CSG Snapshot: Builders FirstSource Inc.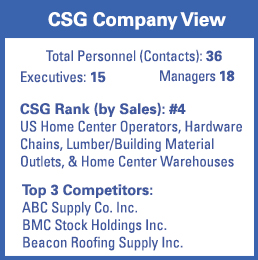 2001 Bryan St
Dallas, TX 75201
(214) 880-3500
bldr.com
Total Units
472
Net Revenue
$6.37 billion
Year Founded
1998
Trading Areas
AK, AL, AZ, CA, CO, CT, DC, DE, FL, GA, HI, IA, ID, IL, IN, KS, KY, LA, MD, MI, MN, MO, MS, MT, NC, ND, NJ, NM, NY, OH, OK, OR, SC, SD, TN, TX, UT, VA, WA, WI, WV, WY
Senior Executives
CEO: Floyd Sherman
President + COO: Chad Crow
Senior VP + CFO: Peter Jackson
Senior VP + General Counsel: Donald McAleenan
SNAP

FORWARD
Almost two years on from its acquisition of ProBuild, Builders FirstSource has consolidated operations and is moving forward from a position of strength. The company grew first-quarter sales by 9.7%. Continuing on at that pace, Builders FirstSource will approach the $7-billion mark at year's end.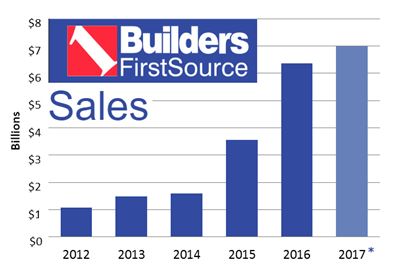 Source: Chain Store Guide Database of Home Center Operators & Hardware Chains.*CSG projection based on proprietary analysis and company statements. Actual figures are subject to change. This data is not intended for investment decisions.