CSG Snapshot: Bloomin' Brands Inc.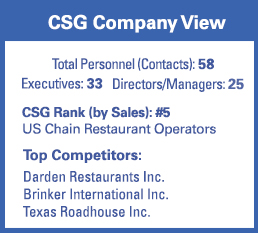 2202 N. West Shore Blvd.
Tampa, FL 33607
(813) 282-1225
bloominbrands.com
Total Stores
1,486
Systemwide Sales
$4.3 billion
Year Founded
1988
Trading Areas
AK, AL, AR, AZ, CA, CO, CT, DE, FL, GA, GU, HI, IA, ID, IL, IN, KS, KY, LA, MA, MD, MI, MN, MO, MS, MT, NC, NE, NH, NJ, NM, NV, NY, OH, OK, OR, PA, PR, RI, SC, SD, TN, TX, UT, VA, VI, VT, WA, WI, WV, WY, AB, ON, FC
Senior Executives
Chairman + CEO: Liz Smith
Chief Brand Officer: Chris Brandt
Chief Development + Franchising Officer: Suk Singh
President (Outback): Patrick Murtha
SNAP

FORWARD
Looking for a way back in from the cold, Bloomin' Brands Inc. has joined the recent trend in refranchising a number of stores, albeit in a Bloomin' Brands sort of way. Turning over 54 restaurants to long-term partners with 20+ years each in the Outback business, as it did last month, is a far cry from trying to unload of the balance of company-operated stores as we've seen with some chains recently. However, for a company that has historically held operations close to the vest (still operating 1,074 of 1,242 US units after the deal), it's a sign that a real need for real change to right the ship may be resonating in the C-suite.