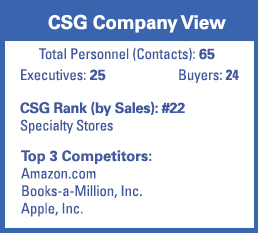 122 5th Ave.
New York, NY 10011
(212) 633-3300
barnesandnoble.com
Total Stores
634
Total Sales
$3.89 billion (e)
Year Founded
1873
Trading Areas
AK, AL, AR, AZ, CA, CO, CT, DC, DE, FL, GA, HI, IA, ID, IL, IN, KS, KY, LA, MA, MD, ME, MI, MN, MO, MS, MT, NC, ND, NE, NH, NJ, NM, NV, NY, OH, OK, OR, PA, RI, SC, SD, TN, TX, UT, VA, VI, VT, WA, WI, WV, WY
Senior Executives
Chairman: Leonard Riggio
CEO: Demos Parneros
CFO: Allen Lindstrom
SNAP

FORWARD
Barnes & Noble has a new CEO – a familiar statement to industry observers. Demos Parneros become the company's fourth CEO since 2013 (not counting Chairman Leonard Riggio's interim tenure for the last seven months). Mr. Parneros takes the helm of an organization that's likely to report a total sales decrease in the neighborhood of 6% to 8% when it releases its FYE 4.30.17 figures in the coming months. The company hopes that continued efforts to turn over more floor space to non-book merchandise (like educational games) and foodservice is part of the fix.

Source: CSG Discount, Dollar & Specialty Stores Plus Database. *CSG projections based on proprietary analysis and company statements. Actual figures are subject to change. This data is not intended for investment decisions.
With the Discount Stores & Specialty Retailers PLUS Database, our clients and customers have access to 4,200 companies and 16,400 contacts across big-box discounters, dollar stores and 10+ specialty-retail verticals, including bookstores.