Panera, Popeyes and More: Major Deals to Date
The last few months have been anything but boring in the foodservice space with a number of large-scale mergers and acquisitions. The following chart contains the latest on the blockbuster deals along with current counts for contacts at each chain found in our Restaurant Franchisee Premier Database.
Our Restaurant Franchisee Premier Database contains 16,400+ companies and 41,800+ personnel records (22,600+ with full contact information). The companies listed include chain restaurants along with thousands of individual franchisees for 20 of the largest North American chains.
As these mergers shake out, our business intelligence and research teams keep our databases updated so that our clients and customers have continuous access to the executives and decisions makers throughout each of these organizations.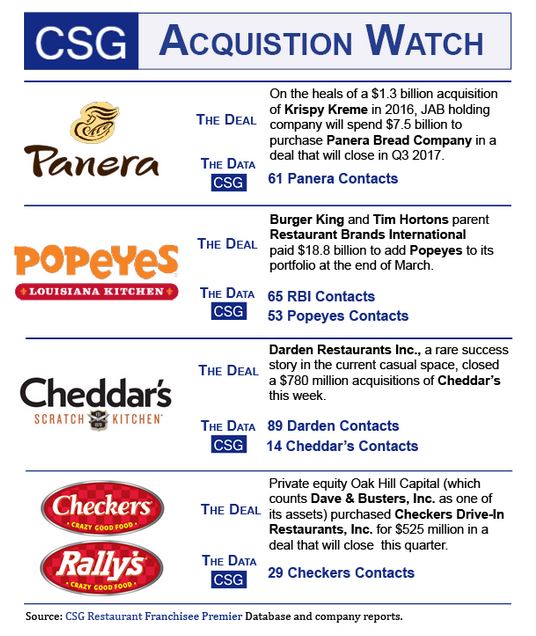 In addition to these deals, we're also tracking niche deals like the ongoing talks between sbe Entertainment Group and the Hakkasan Group, which would create a billion-dollar hospitality, restaurant and entertainment company and smaller deals like the recent Revelator Coffee Company (Birmingham, AL) acquisition of Atlanta's Octane Coffee.