CSG Snapshot: TreeHouse Inc.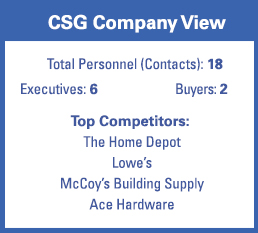 4477 South Lamar Blvd
Suite 600
Austin, TX 78745
(512) 861-0712
treehouse.co
Total Locations
1

Total Sales
$47.3 million (e)
Year Founded
2011
Trading Areas
TX
Senior Executives
Co-Founder + CEO: Jason Ballard
Co-Founder: Evan Loomis
VP Finance: Rachael Podhorn
VP Creative: Aaron Moulton
SNAP

FORWARD
TreeHouse, a Texas-based green-building home improvement retailer, takes its next step towards its eventual goal of 300 stores in July when the company opens its second store in Dallas, followed by what's expected to be location number three in nearby Plano in late 2017. Plans for 2018 include expanding beyond Texas with the next round of store openings. Strategically placed, the company believes that 300 locations can put TreeHouse within reach of 80% of US households. With a heavy project-based focus (sales and installs of the Tesla Powerball home battery system, for example), TreeHouse will bring with it an associated group of contractors, designers and consultants to each new market.
Source: Chain Store Guide Database of Home Center Operators & Hardware Chains, company reports, and media reports.