CSG Snapshot: Payless ShoeSource Inc.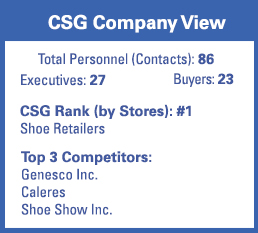 3231 SE 6th Ave
Topeka, KS 66607
(785) 233-5171
www.payless.com
Domestic Stores
3,400
Total Sales
$3.0 billion (e)
Year Founded
1956
Trading Areas
AK, AL, AR, AZ, CA, CO, CT, DC, DE, FL, GA, GU, HI, IA, ID, IL, IN, KS, KY, LA, MA, MD, ME, MI, MN, MO, MS, MT, NC, ND, NE, NH, NJ, NM, NV, NY, OH, OK, OR, PA, PR, RI, SC, SD, TN, TX, UT, VA, VI, VT, WA, WI, WV, WY, AB, BC, NS, ON, QC
Senior Executives
CEO: Paul Jones
CFO: Michael Schwindle
COO: Michael Vitelli
Chief Customer + Marketing Officer: Ellen Junger
SNAP

FORWARD
Payless ShoeSource filed for Chapter 11 bankruptcy protection last week and announced that it would close 378 US locations, accounting for approximately 11% of the retailer's North American footprint. Reports surfaced in February that claimed executives had considered shuttering as many as 1,000 stores. CSG filtered the store list released by Payless through our Apparel Store Locations Database to map each store closure at the zip code level below.
Source: Chain Store Guide's Database of Apparel Store Locations.