CSG Snapshot: Party City Holdco Inc.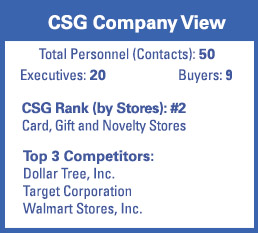 25 Green Pond Road
Rockaway, NJ 07866
(973) 983-0888
www.partycity.com
Total Stores
947

Total Sales
$2.3 billion
Retail Sales:
$1.7 billion
Year Founded
1986
Trading Areas
AL, AR, AZ, CA, CO, CT, DE, FL, GA, HI, ID, IL, IN, KS, KY, LA, MA, MD, ME, MI, MN, MO, MS, MT, NC, ND, NE, NH, NJ, NM, NV, NY, OH, OK, OR, PA, PR, RI, SC, TN, TX, VA, VT, WA, WI, WV, AB, BC, NB, NL, NS, ON, SK
Senior Executives
Chairman: Gerald Rittenberg
CEO: James Harrison
CFO: Daniel Sullivan
Chief Accounting Officer: Michael Correale
President: Gregg Melnick
SNAP

FORWARD
With a significant portion of Party City sales coming from Halloween celebrations (at both Party City stores and a couple hundred seasonal Halloween City locations not included in our store counts), the company felt the pinch last year as the holiday moved from a Saturday in 2015 to a Monday. Overall retail sales were still up 2.2%, but wholesale business dipped in 2016. For 2017, we can expect retail sales to again grow by 2% to 3%. A moderate level of expansion is also in the cards. The company continues to strategically acquire franchise locations (deals for 36 have been announced to date this year), and we should see 25 to 30 new store openings.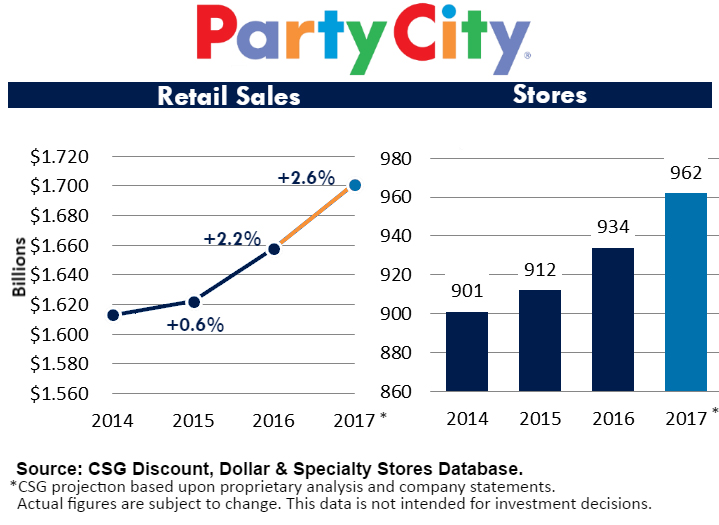 With the Discount, Dollar & Specialty Stores PLUS Database, our clients and customers have access to 700 companies and 1,779 contacts within the card, gift and novelty vertical alone. All in, the database provides users with access to 4,200 companies and 16,300 contacts across big-box discounters, dollar stores and 10+ specialty-retail verticals.