CSG Snapshot: Popeyes Louisiana Kitchen Inc.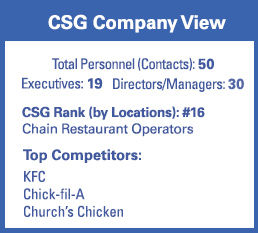 400 Perimeter Center Terrace
Suite 1000
Atlanta, GA 30346
(404) 459-4450
www.popeyes.com
company.popeyes.com
Total Stores
2,633
Systemwide Sales
$3.3 billion (e)
Year Founded
1972
Trading Areas
AK, AL, AR, AZ, CA, CO, CT, DC, DE, FL, GA, GU, HI, IA, ID, IL, IN, KS, KY, LA, MA, MD, ME, MI, MN, MO, MS, MT, NC, ND, NE, NH, NJ, NM, NV, NY, OH, OK, OR, PA, PR, RI, SC, TN, TX, UT, VA, WA, WI, WV, FC, ON
Senior Executives
CEO: Cheryl Bachelder
Chief Brand Officer: Richard Lynch
CFO: William Matt
SNAP

FORWARD
So what does Burger King and Tim Hortons parent Restaurant Brands International get for the $18.8 billion it's paying to add Popeyes to its portfolio? In addition to another $3.3 billion in systemwide sales (increasing RBI's total take by approximately 12%), RBI is banking on two words straight out of its BK playbook – growth potential. With fewer than 630 locations outside of the US and an untapped China market, global expansion is top of the list. But there's still plenty of room to grow at home, as the graphic shows. Currently, just five states – California, Texas, Lousiana, Florida and New York – account for more than 50% of all domestic Popeyes locations, and Popeyes' has 50 or more restaurants in only 15 states.