CSG Snapshot: Dollar General Corp.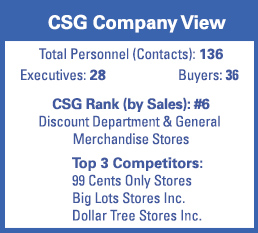 100 Mission Ridge
Goodlettsville, TN 37072
www.dollargeneral.com
Total Stores
13,320
Total Sales
$20.4 billion
Year Founded
1939
Trading Areas
AL, AR, AZ, CA, CO, DE, FL, GA, IA, IL, IN, KS, KY, LA, MD, ME, MI, MN, MO, MS, NC, ND, NE, NJ, NM, NV, NY, OH, OK, OR, PA, RI, SC, SD, TN, TX, UT, VA, VT, WI, WV
Senior Executives
CEO: Todd Vasos
Exec VP + CFO: John Garrat
Exec VP + Chief Merchandising Officer: Jim Thorpe
Exec VP, Store Operations: Jeff Owen
SNAP

FORWARD
Fiscal 2017 should be another big year for Dollar General.  After adding 837 stores in 2016, the company plans to continue its march towards (and past) 14,000 stores with approximately 1,000 planned openings this year. Along with new stores, Dollar General aims to remodel 900 existing locations. Next month's earnings report will provide the definitive word on Dollar General's performance in 2016 and more color for its plans in 2017.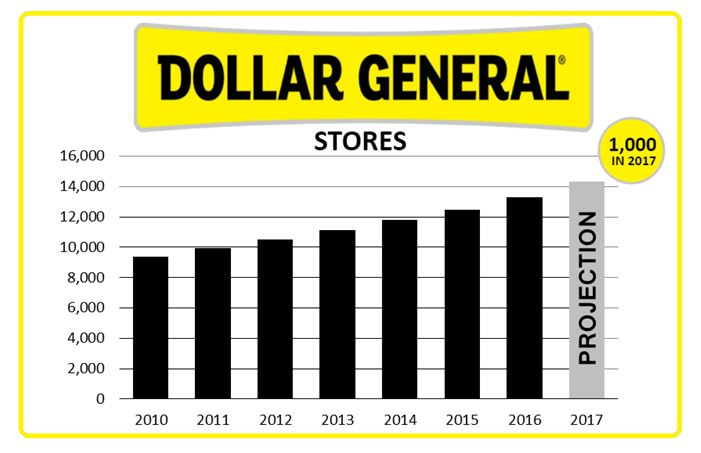 Source: Chain Store Guide Database of Discount Stores & Specialty Retailers. Projections based on company statements.