CSG Snapshot: American Eagle Outfitters Inc.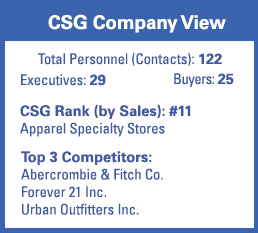 77 Hot Metal Street
Pittsburgh, PA 15203
(412) 432-3300
ae.com
Total Stores
1,050
Total Sales
$3.6 billion
Year Founded
1977
Trading Areas
AK, AL, AR, AZ, CA, CO, CT, DC, DE, FL, GA, HI, IA, ID, IL, IN, KS, KY, LA, MA, MD, ME, MI, MN, MO, MS, MT, NC, ND, NE, NH, NJ, NM, NV, NY, OH, OK, OR, PA, PR, RI, SC, SD, TN, TX, UT, VA, VT, WA, WI, WV, WY, AB, BC, MB, NB, NL, NS, NT, ON, PE, QC, SK
Senior Executives
CEO: Jay. Schottenstein
CFO: Robert Madore
COO: Michael Rempell
Chief Global Commercial + Administrative Officer: Peter Horvath
Global Brand President (Aerie): Jennifer Foyle
Global Brand President (AE): Charles Kessler
SNAP

FORWARD
The rare teen retailer that isn't tanking, and at American Eagle Outfitters, it's all about Aerie, the company's lingerie and swimwear brand. In its F16 earnings statement released last Wednesday, American Eagle Outfitters, Inc. reported year-over-year revenue growth of +2%. Digging deeper, we can see the Aerie effect. Comparable sales across the AE brand were only up a point in 2016 while Aerie brand comps were over 23%. In fact, Q4 marked the 12th consecutive quarter of double-digit sales growth for Aerie. Not surprisingly, American Eagle's future plans include a lot more Aerie. During its F16 earnings call, the company discussed growing Aerie to 300 total locations "over time" in the form of both stand-alone stores and side-by-side shops (as part of AE Mainline and Factory stores). The following chart outlines projected growth for 2017.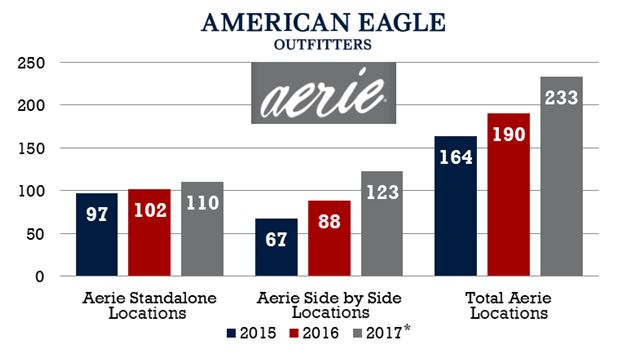 Source: Chain Store Guide's Database of Apparel Specialty Stores and company statements. *CSG projections based on proprietary analysis and company statements. Actual figures are subject to change. This data is not intended for investment decisions.