CSG Snapshot: Ace Hardware Corp.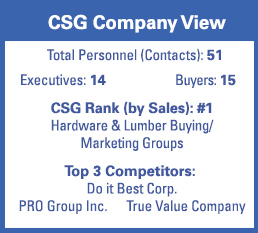 2200 Kensington Court
Oak Brook, IL 60523
(630) 990-6600
www.acehardware.com
Accounts Served
4,200
Total Sales
$5.1 billion
Year Founded
1924
Trading Areas
AK, AL, AR, AZ, CA, CO, CT, DC, DE, FL, GA, HI, IA, ID, IL, IN, KS, KY, LA, MA, MD, ME, MI, MN, MO, MS, MT, NC, ND, NE, NH, NJ, NM, NV, NY, OH, OK, OR, PA, RI, SC, SD, TN, TX, UT, VA, VT, WA, WI, WV, WY
Senior Executives
President + CEO: John Venhuizen
Exec VP + CFO: William Guzik
Exec VP of Supply Chain: Lori Bossman
Exec VP of Marketing, Sales + Merchandising: John Surane
SNAP

FORWARD
Reporting on 2016 results, Ace Hardware Corp. President and CEO had provided a laundry list of positive statements as a takeaway from what he called a "challenging year." The highlights included a fourth consecutive year of record revenue ($5.1 billion) and a seventh consecutive year for same-store sales growth. CSG projects 2017 revenue growth in the mid-single digits.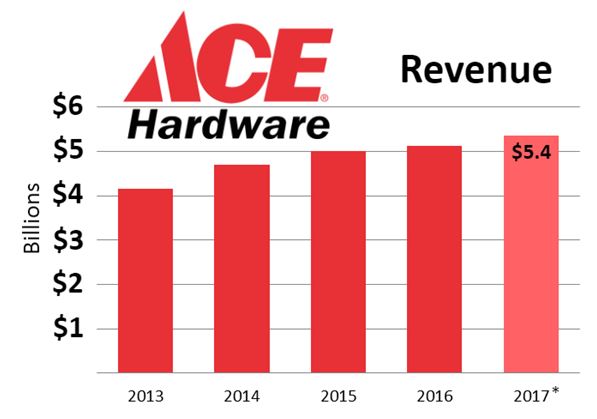 Source: Chain Store Guide Database of Home Center Operators & Hardware Chains.*CSG projection based on proprietary analysis and company statements. Actual figures are subject to change. This data is not intended for investment decisions.