Whole Foods: Charting the Challenge
Whole Foods is officially struggling – in the opinion of just about everyone since the company released its first quarter earnings results last week. Pick a metric, and Whole Foods is likely moving in the wrong direction. Same-store sales, though, is getting much of the attention from reporters and analysts thanks to the company's sixth consecutive quarter of negative same-store sales.
Chain Store Guide leveraged data from our Supermarket, Grocery & Convenience Store Chains database (along with information from the Organic Trade Association and Whole Foods) to provide a visual snapshot of the challenge that faces Whole Foods.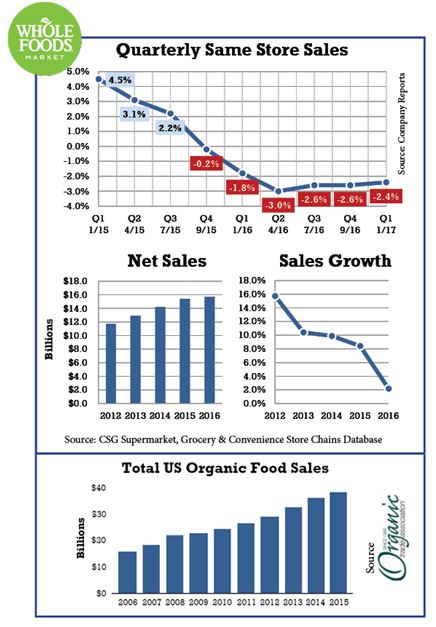 Click Here To View Larger Image
Six straight quarters of negative comps are obviously alarming, but the data points to a trend that dates back at least five years. The consensus as to the cause of Whole Foods' pain is, ironically, the growing popularity of organic food that Whole Foods helped spur.
As organic food sales continue to rise on the back of consumer demand, everyone else from Walmart to Publix (not to mention the Sprouts and Trader Joes of the world) have dedicated increasing space to organic. Whole Foods is no longer the only game in town when it comes to organics, and its notoriously steep price points are magnified even more by the competition.
CSG data shows that although net sales at Whole Foods have increased annually since 2012, its rate by which those sales have grown has declined dramatically, falling off a cliff in 2016. Whole Foods itself confirmed that this trend isn't likely to end as its updated guidance delivered  last week walked back sales growth targets for 2017 to 1.5%, down from initial projections of 2.5% to 4.5% just three months ago.