CSG Snapshot: Sportsman's Warehouse Holdings, Inc.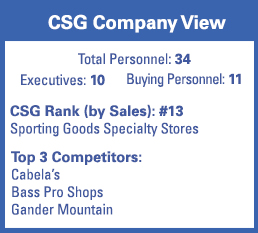 7035 S. High Tech Drive
Midvale, UT 84047
(801) 566-6681
sportsmanswarehouse.com
Total Stores
78
Total Sales
$730 million
Year Founded
1986
Trading Areas
AK, AZ, CA, CO, IA, ID, KY, LA, MS, MT, NC, ND, NM, NV, OR, SC, TN, UT, VA, WA, WY
Senior Executives
President + CEO: John Schaefer
CFO: Kevan Talbot
Director of Operations: Jeremy Williams
VP of Field Merchandising: Stephen Coffey
SNAP

FORWARD
Following the acquisition of ten Wholesale Sports Outdoor Outfitters locations in Oregon, Washington and Montana in early 2013, Sportsman's Warehouse grew its store count by another 60% over the last three years. Moving forward, the company plans to increase its retail space by at least 10% annually for the next few years. Ten new locations have been announced for 2017. The "class of 2017" includes stores in Arizona, California (2), Colorado, Nevada, North Carolina, Utah, Washington (2), and West Virginia.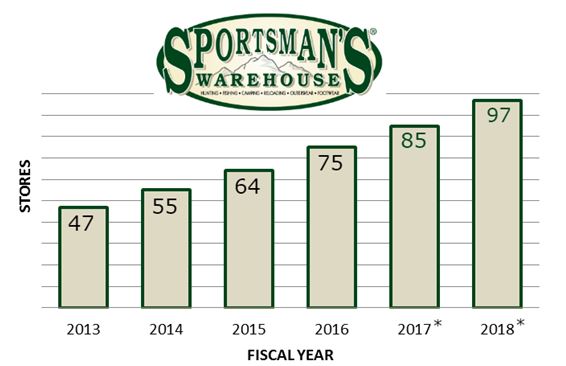 Source: Chain Store Guide's Database of Apparel Specialty Stores. *CSG projection based on company statements. Actual figures are subject to change. This data is not intended for investment decisions.
The apparel and footwear categories account for approximately 15% of Sportsman's Warehouse sales with the remainder attributed to sporting goods, just some of the data CSG captures for all the sporting goods chains in North America within our Database of Apparel Specialty Stores.