CSG Snapshot: Thrifty White Drug Stores Inc.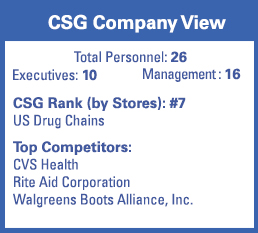 6055 Nathan Ln N
Plymouth, MN 55442
(763) 513-4300
www.thriftywhite.com
Total Stores
93
Total Sales
$380 million (e)
Year Founded
1884
Trading Areas
IA, MN, MT, ND, SD, WI
Senior Executives
President + CEO: Robert Narveson
Exec VP + CFO: Mark Basco
COO: Tim Weippert
SNAP

FORWARD
Whether they're big or small, the Chain Store Guide research team tracks them all. Tracing its roots to the 1884 establishment of White Drugs in the Dakota Territory, Thrifty White Drug has added 13 locations to its base in six Midwestern states over the last decade, settling on 90 to 93 net stores over the last five years. In addition to these stores, the chain boasts 80 affiliated pharmacies. Store counts haven't fluctuated much, but the company's renewed focus on healthcare in recent years and a slight move away from general merchandise have played out within its real estate portfolio via remodels, relocations, store closings and new builds.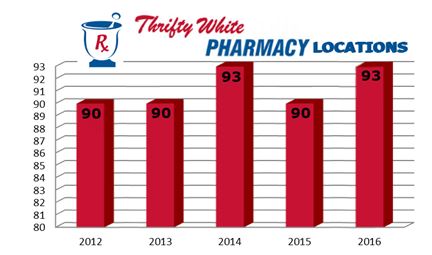 Source: Chain Store Guide's Database of Drug Store & HBC Chains.