Massachusetts-based BJ's Wholesale Club, the third largest membership club in the US, plans to open its first location in South Carolina in June, bridging the gap between neighboring North Carolina and Georgia where the privately held company has a ten-store and five-store presence, respectively.
Making use of Chain Store Guide data and our Custom Proximity Analysis service, here's a preliminary sketch of the neighborhood and the competition (discount, supermarket, drug, and general merchandise chains) within a 10-mile radius of the new BJ's location.
The store is located along I-26 approximately 15 miles north east of Charleston's I-526 in Summerville, SC (within the Charleston-North Charleston, SC CBSA) and will share Exit 199 with a Walmart Supercenter and Target, among others.
Taking a look at the location at the CBSA level, we can see that BJ's has chosen an area in which the 740,000 residents enjoy an average household income of $72,372, well above the US median household income of roughly $56,000.


Of note, in terms of competition, CSG data shows that the 10-mile radius around the BJ's chosen location is free of direct competitors Costco and Sam's Club. (Though they're not completely out of sight – Costco has a Charleston location approximately 16 miles away and a Sam's Club sits within 13 miles of the BJ's store.)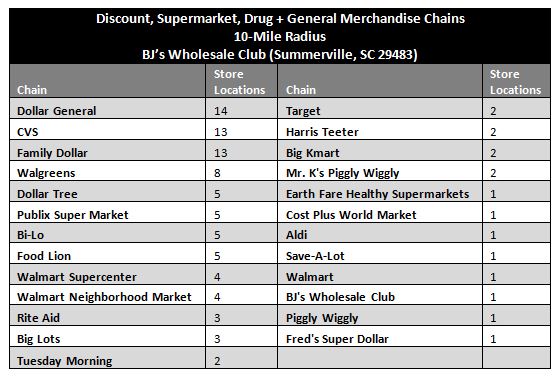 Source: Chain Store Guide's Custom Proximity Analysis.
CSG provides clients and customers customized, detailed proximity reports that may include the number of stores (and locations) in a given market, 5+ years' historical sales volume for that market, multiple market breakdowns and more. Contact us for information about competitive geographic market analyses for discount and dollar stores, hardware stores, grocery retailers, drug stores, convenience stores, apparel and department stores, quick serve restaurants and casual dining establishments.
* Core Based Statistical Area (CBSA)