CSG Snapshot: Walgreens Boots Alliance, Inc.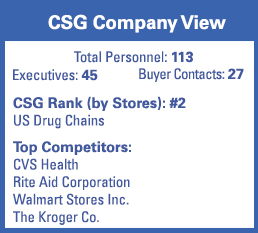 108 Wilmot Road
Deerfield, IL 60015
(847) 914-2500
walgreens.com
walgreensbootsalliance.com
Total Stores
8,175
Total Sales
$117.4 billion
Year Founded
1901
Trading Areas
AK, AL, AR, AZ, CA, CO, CT, DE, FL, GA, HI, IA, ID, IL, IN, KS, KY, LA, MA, MD, ME, MI, MN, MO, MS, MT, NC, ND, NE, NH, NJ, NM, NV, NY, OH, OK, OR, PA, PR, RI, SC, SD, TN, TX, UT, VA, VT, WA, WI, WV, WY
Senior Executives
Executive Chairman: James Skinner
CEO: Stefano Pessina
Co-Chief Operating Officer: Ornella Barra
Co-Chief Operating Officer: Alex Gourlay
CFO: George Fairweather
SNAP

FORWARD
As we wait for the increasingly more likely Walgreens Boots Alliance/Rite-Aid merger to go down in early 2017, here's a look at Walgreens' steady US pharmacy footprint in recent years – a footprint that Chain Store Guide tracks on a location-by-location basis (with complete addresses and geocoding for each store). When the deal closes, we'll sort through the two company's combined 200+ personnel and 12,000+ physical locations in our database to track who's coming, who's going, which stores remain with the new company and which locations are sold to Albertsons, Kroger or another suitor.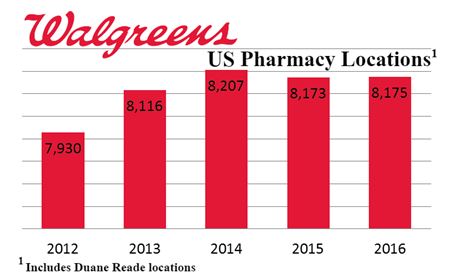 Source: Chain Store Guide's Database of Drug Store & HBC Chains.