CSG Snapshot: Ross Stores Inc.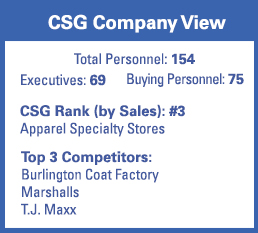 5130 Hacienda Drive
Dublin, CA 94568
(925) 965-4400
www.rossstores.com
Total Stores
1,535
Total Sales
$11.9 billion
Year Founded
1982
Trading Areas
AL, AR, AZ, CA, CO, DC, DE, FL, GA, GU, HI, ID, IL, IN, KS, KY, LA, MD, MO, MS, MT, NC, ND, NJ, NM, NV, OK, OR, PA, SC, SD, TN, TX, UT, VA, WA, WY
Senior Executives
Executive Chairman: Michael Balmuth
CEO: Barbara Rentler
President + Chief Merchandising Officer, dd's Discounts: Brian Morrow
President + COO: Michael O'Sullivan
CFO: Michael Hartshorn
SNAP

FORWARD
Off-price retailers are riding a wave of success lately, but Ross Stores Inc. isn't new to positive results. The company has grown sales at an average rate of 9.2% over the last decade (2013's +5.2% was the low-water mark), while more than doubling the number of Ross Dress for Less and dd's Discount stores in the same period – 797 stores in 2006 will be 1,530 stores by the end of the year. With a sustained focus and discipline, the company has increased store counts at a rate of 6% a year since 2011. We can expect a general continuation of both sales- and store-growth trends for the near term.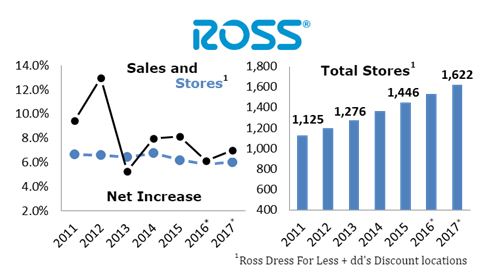 Source: Chain Store Guide's Database of Apparel Specialty Stores. *CSG projection based on proprietary analysis and company statements. Actual figures are subject to change. This data is not intended for investment decisions.