CSG Snapshot: Big Lots Stores Inc.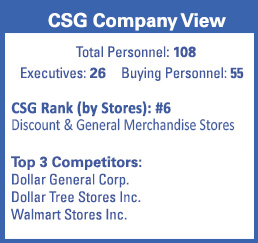 300 Phillipi Road
Columbus, OH 43228
(614) 278-6800
www.biglots.com
Total Stores (North America)
1,442
Total Sales
$5.2 billion
Year Founded
1967
Trading Areas
AL, AR, AZ, CA, CO, CT, DC, DE, FL, GA, IA, ID, IL, IN, KS, KY, LA, MA, MD, ME, MI, MN, MO, MS, MT, NC, NE, NH, NJ, NM, NV, NY, OH, OK, OR, PA, RI, SC, SD, TN, TX, UT, VA, VT, WA, WI, WV, WY
Senior Executives
President + CEO: David Campisi
Exec VP, COO + Chief Merchandising Officer: Lisa Bachmann
Exec VP, CFO + Chief Administrative Officer: Tim Johnson
Exec VP Human Resources and Store Operations: Mike Schlonsky
SNAP

FORWARD
Big Lots is on the upswing. The closure of underperforming stores in recent years has helped boost profitability. And a fresh look at merchandising with a focus on what it describes as "ownable" and "winnable" categories like home and housewares has contributed to two years of increased same-store sales – soon to be three at the end of fiscal 2016.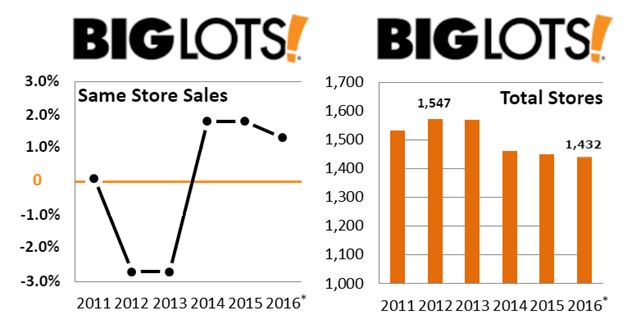 Source: Chain Store Guide's Database of Discount, Dollar & Specialty Stores and company reports. *CSG projections based on proprietary analysis and company statements. Actual figures are subject to change. This data is not intended for investment decisions.