Westlake Ace Hardware: Corp. Funds Fuel Growth
Ace Hardware Corporation's move back into the retail business is paying dividends. Facing the prospect of private equity owners selling off its largest member and the possibility that the 85-unit chain could be split up or exit the coop in favor of a competitor, the company purchased Westlake Ace Hardware in late 2012.
Operating as a wholly-owned subsidiary of Ace Hardware Corp., Westlake Ace shored up existing operations in its first two years under the corporate umbrella, increasing comp sales at its 85 stores. With a stronger foundation in place, Westlake has switched into growth mode, making use of the greater access to capital afforded by its corporate connections.
Since 2014, Westlake has added 11 stores to its portfolio that now totals 96 locations, more than half of which are located in Kansas and Missouri (the state in which the 111-year-old company was founded). In 2016, the company reached a number of geographic milestones with openings of its:

20th Kansas City–area store

10th store in Texas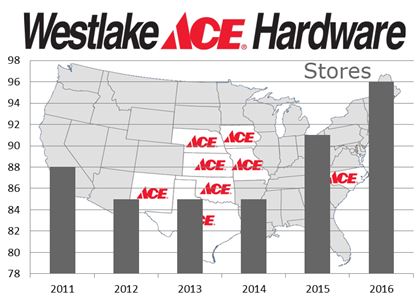 Source: Chain Store Guide's Home Center Operators & Hardware Chains Database.

Purchased for $88 million in 2012, Westlake Ace Hardware will top $260 million in sales in 2016, according to Chain Store Guide projections, a $40+ million (18%) increase in annual sales in the four years since purchase.


Source: Chain Store Guide's Home Center Operators & Hardware Chains Database. *CSG projection based on proprietary analysis and company statements. Actual figures are subject to change. This data is not intended for investment decisions.