Petsense is now part of the Tractor Supply Company. The country's largest farm and home retailer paid $116 million in September for the chain of 136 small-format pet stores (approximately 5,000 square feet) that has since grown to 140+ locations after a string of openings in recent weeks. Petsense will remain a distinct entity, operating as a subsidiary, and its leadership team remains in place, including President and CEO Bob Angstead.


Source: Chain Store Guide's Discount, Dollar, & Specialty Retailers Database and Chain Store Guide's Home Center Operators & Hardware Chains Database.

Petsense has 15 store openings lined up for 2017, locations that were in place prior to the Tractor Supply acquisition; that number will likely increase to 20 or 25 stores by 2017's end. When announcing the Petsense acquisition, Tractor Supply stated its plans to grow the Petsense portfolio by 15 to 20% annually, a rate that would see Petsense all but double its store count by 2020.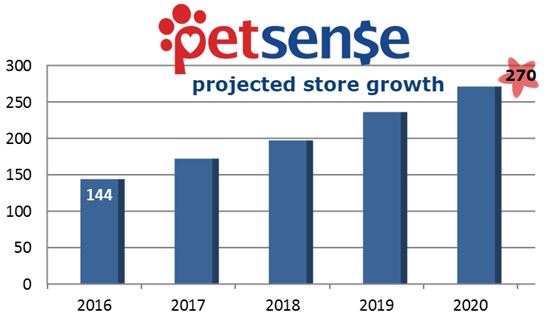 Source: Chain Store Guide's Discount, Dollar, & Specialty Retailers Database.
The Petsense growth potential is the key to making this deal work. With deeper pockets and its site selection/development expertise, Tractor Supply can push Petsense expansion and move the chain to the top of the group of pet retailers that occupy the tier below the industries 1,500-unit giants, Petco and PetSmart.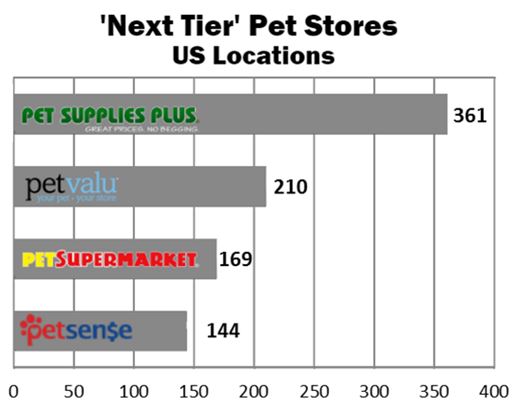 Source: Chain Store Guide's Discount, Dollar, & Specialty Retailers Database.
Existing synergies between the two companies also point to the long-term success of the acquisition. Livestock and pet supplies currently make up 44% of Tractor Supply's total sales, so the animal-products business is one of which the company has more than a cursory knowledge. The acquisition of Petsense, in fact, is the result of years of work by Tractor Supply to learn more about the pet-supplies retail market. The company opened two of its own pet stores in Tennessee under the HomeTown Pet banner in late 2014 to gain first-hand knowledge and experience. (Both locations will be rebranded as Petsense locations.)
For its part, in addition to growth potential, Petsense brings deep knowledge of its retail space that will flow back to Tractor Supply stores. In particular, its experience merchandising and marketing higher-end pet brands and products introduces an opportunity for a revamped product mix and greater average ticket sales in the pet-supplies category at Tractor Supply.