CSG Snapshot: The Tile Shop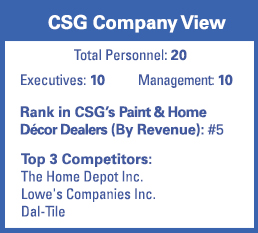 14000 Carlson Pkwy
Plymouth MN 55441
(763) 541-1444
www.tileshop.com
Total Stores
121
Total Sales
$293 million
Year Founded
1985
Trading Areas
AR, AZ, CO, CT, DE, FL, GA, IA, IL, IN, KS, KY, MA, MD, MI, MN, MO, NC, NE, NJ, NM, NY, OH, OK, PA, RI, SC, TN, TX, VA, WI
Senior Executives
President + CEO: Chris Hormeister
CFO: Kirk Geadelmann
Senior VP Operations: Joseph Kinder
Senior VP Retail: Carl Randazzo
SNAP

FORWARD
CEO Chris Hormeister, in his current position since early 2015, is shoring up operations at The Tile Shop, and positive same-store sales growth is becoming the norm. Having scaled back the number of new store openings for the last two years (after a multi-year run of 20-30% annual unit growth), the company is set to move forward with a sensible, measured plan for 8-12% annual unit growth.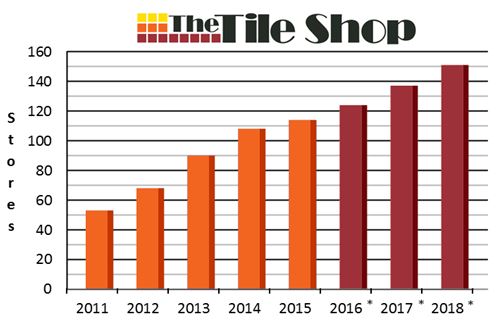 Source: Chain Store Guide's Database of Home Center Operators & Hardware Chains. *CSG projection based on proprietary analysis and company statements. Actual figures are subject to change. This data is not intended for investment decisions.
New Year, New CEO, New Possibilities
Updated: 4/10/2019 
This month we are looking back at our most popular articles and reviewing where the companies are now.
Between 2011 and 2014 The Tile Shop had an astounding explosion of growth in both sales and new store openings, but the increase started to plateau between 2014 and 2015 due to a company scandal. In 2015 a new CEO, Chris Homeister, slowed the progression of store openings to focus on increasing efficiency to better set the company up for future growth. In 2016 CSG predicted, based off past company growth and current market trends that The Tile Shop's growth moving forward would be between 8-12% which the store hit in 2017 with a unit growth rate of 11%. However, in October of 2017, Homeister announced he would be resigning, and founder Robert Rucker would step in as Interm CEO until a permanent CEO could be found. This rearrangement of key decision makers could be the reason for the sluggish 3% unit growth rate in 2018. It should be noted, however, that though there had been few store openings between 2017 and now, the company holds steady on rising sales with a 10% increase from 2016 through 2017 and a 6% increase from 2017 through 2018.
January 1, 2019, a new CEO, Cabell Lolmaugh took over as permanent CEO. The company hopes Lolmaugh will be able to restore The Tile Shop's explosive unit growth rate from previous years. Currently, the company already has a 3% increase in sales growth for 2019, but have yet to open any new stores.
Cassandra Covill

CSG welcomes Cassandra Covill as our new Marketing Content Writer. Cassandra worked freelance as a Content Manager for several small local companies as well as a few well-known corporations such as ESPN and Pitney Bowes while completing her bachelor's degree in graphic design with a concentration in marketing from Central Connecticut State University. She then completed a post-graduate certification in digital marketing from Cornell University concentrating on SEO/SEM, copywriting and social media marketing.