CSG Snapshot: The Fresh Market Inc.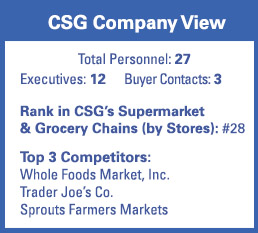 628 Green Valley Rd
Greensboro NC 27408
(336) 272-1338
www.thefreshmarket.com
Total Stores
176
Total Sales
$1.85 billion
Year Founded
1982
Trading Areas
AL, AR, CT, FL, GA, IL, IN, KY, LA, MA, MD, MS, NC, NH, NJ, NY, OH, OK, PA, SC, TN, VA, WI
Senior Executives
President + CEO: Rick Anicetti|
CFO: Jeffrey Ackerman
Chief Merchandising Officer: Pamela Kohn
SNAP

FORWARD
Following its acquisition by Apollo Global Management in April and shuttering its stores (13) in Iowa, Kansas, Texas and Missouri earlier this year, The Fresh Market is lowering prices ("on hundreds of items"), expanding the number and types of products offered (to the tune of 1,300 everyday items) and refreshing the brand. The goal? Retain its gourmet cache while becoming a one-stop weekly-shop destination as the means to reverse a slowdown in sales growth. North Carolina is first on the store-refresh list with three stores down and another dozen in Charlotte and Raleigh/Durham set to get a makeover by the end of the month. All 176 stores will be updated by early 2018.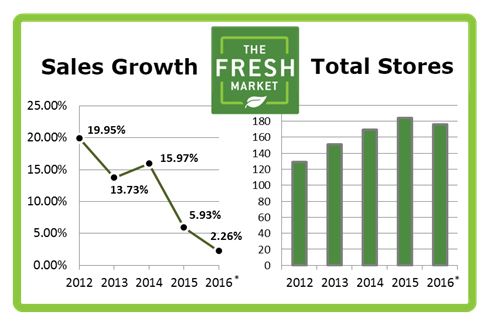 Source: Chain Store Guide Database of Supermarket, Grocery & Convenience Store Chains.* CSG projections based on proprietary analysis and company statements. Actual figures are subject to change. This data is not intended for investment decisions.