CSG Snapshot: Staples Inc.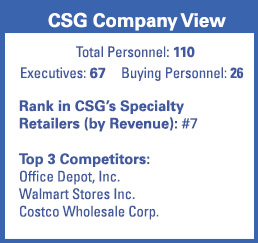 500 Staples Dr
Framingham MA 01702
(508) 253-5000
www.staples.com
Total Stores (North America)
1,588
Total Sales
$21.1 billion
Year Founded
1986
Trading Areas
AL, AR, AZ, CA, CO, CT, DC, DE, FL, GA, IA, ID, IL, IN, KS, KY, MA, MD, ME, MI, MN, MO, MS, MT, NC, ND, NE, NH, NJ, NM, NV, NY, OH, OK, OR, PA, RI, SC, TN, TX, UT, VA, VT, WA, WI, WV, AB, BC, MB, NB, NL, NS, ON, PE, QC, SK, YT
Senior Executives
CEO: Shira Goodman
CFO: Kristine Komola
Vice Chairman: Joseph Doody
SNAP

FORWARD
Having removed CEO Shira Goodman's "interim" tag in September, Staples struggles to right its ship as the ever-increasing digital nature of business continues to plague the office-supply retailer. After its merger with Office Depot was called off in May, Staples now looks to refocus, jettison underperforming stores and explore ways to expand its role as a services provider. CSG projects the company will close out 2016 with sales down another 4% and North American locations numbering around 1,560.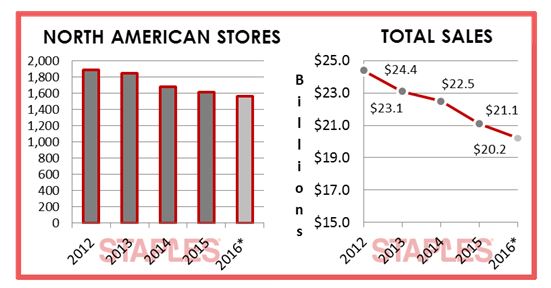 Source: Chain Store Guide Database of Discount, Dollar & Specialty Stores. *CSG projections based on proprietary analysis and company statements. Actual figures are subject to change. This data is not intended for investment decisions.