CSG Snapshot: Sally Beauty Holdings, Inc.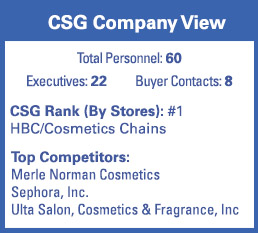 3001 Colorado Blvd
Denton, TX 76210
(940) 898-7500
www.sallybeauty.com
Total Stores
3,750
Total Sales
$2.3 billion
Year Founded
1964
Trading Areas
AK, AL, AR, AZ, CA, CO, CT, DC, DE, FL, GA, HI, IA, ID, IL, IN, KS, KY, LA, MA, MD, ME, MI, MN, MO, MS, MT, NC, NE, NH, NJ, NM, NV, NY, OH, OK, OR, PA, PR, RI, SC, SD, TN, TX, UT, VA, VT, WA, WI, WV, WY, AB, BC, MB, NB, NS, NT, ON, PE, QC, SK, YT
Senior Executives
President + CEO: Christian Brickman
President, Sally Beauty US and Canada: Sharon Leite
Senior VP, General Counsel: Matthew Halton
Acting CFO: Janna Minton
SNAP

FORWARD
The two divisions of Sally Beauty Holdings, Inc. (Sally Beauty Supply and the Beauty Systems Group targeting industry professionals) have both contributed to the company's success in recent years. With 3,700+ retail locations, Sally Beauty Supply is the world's largest beauty retailer, and we can expect continued store growth in the near term at a rate of 3% annually, or more than 100 units a year. Net sales have grown every year for 13 straight years, and the trend will continue for 2016, with growth projected to come in under 2%.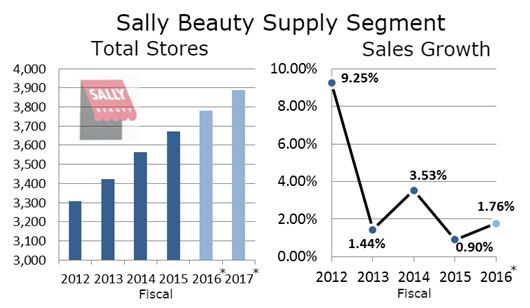 Source: Chain Store Guide's Database of Drug Store & HBC Chains. *CSG projections based on proprietary analysis and company statements. Actual figures are subject to change. This data is not intended for investment decisions.