After 85 years in business and a bankruptcy in its recent past, Lowe's subsidiary Orchard Supply Hardware opened its first East Coast store this week (October 25). In addition to being the company's first location in the east, the newly opened Fort Lauderdale, FL store is only the fourth location outside of Orchard Supply Hardware's home state of California.
The Fort Lauderdale location is the first in what promises to be one of many stores for the state and will be followed in quick succession by the opening of three additional South Florida stores before the end of 2016:

Coral Springs

Deerfield Beach

Weston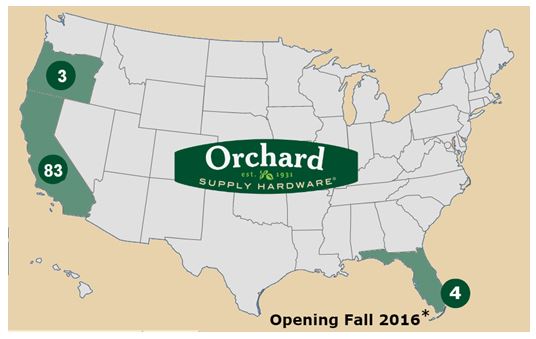 Sources: Chain Store Guide Database of Home Center Operators & Hardware Chains and company reports.
Further expansion is imminent as Orchard executives noted that "the company plans to open stores throughout the state in 2017." Additional cities on the list for stores in 2017 include Orlando and Naples.
Florida wouldn't seem to be a natural first-step for most retailers in expanding from a California base on a strictly geographical basis. But similar climates along with a comparable coastal lifestyle and healthy real estate market will make Orchard's current product mix, merchandising efforts and marketing strategies suited to its new market and the Florida consumer.