Franchise Focus: Pizza Hut's Top Franchisees
Last week, the Chain Store Guide team launched our newest product – The Top 20 Restaurant Franchises database, a new tool that can be leveraged by commercial property owners and service providers looking to engage large-scale (and small) restaurant franchisees.
The RF20 is a database that captures and links franchisees of the Top 20 restaurant chains to each of their physical locations. The database features 18,800+ franchise owners (with contact information) and 80,700+ geocoded franchised locations throughout the US, all Triple Linked™ so users can trace the connections between parent, chain and franchise owner with additional links to physical storefronts.
With franchisers and franchisees on our mind, here's a look at the top Pizza Hut franchisees in the US (of the 144 Pizza Hut franchisees in the Top 20 Restaurant Franchises).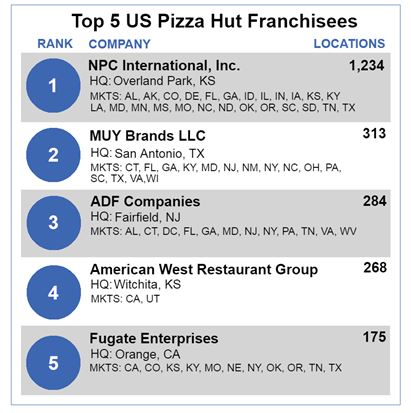 Source: Chain Store Guide's Top 20 Restaurant Franchises (RF20) database.
NPC International is the world's largest Pizza Hut franchisee. Led by Jim Schwartz, the Overland Park, KS firm is also a franchisee of The Wendy's Company with 184 Wendy's restaurants in its portfolio. MUY Brands currently runs more than 520 total QSRs with Taco Bell and Wendy's comprising the remainder of its holdings. Founded in 1998, ADF has grown from a 20-unit operation to 280+ Pizza Hut and 40+ KFC locations. Closely held American West Restaurant Group operates its 39 Utah stores under the auspices of Wasatch Valley Pizza LLC and focuses solely on Pizza Hut operations. The portfolio at Fugate Enterprises features another 100 Taco Bell and Sonic stores.