CSG Snapshot: Trader Joe's Co.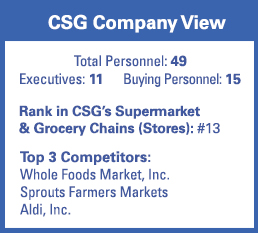 800 S Shamrock Ave
Monrovia CA 91016-6346
(626) 599-3700
www.traderjoes.com
Total Stores
460
Total Sales
$12.75 billion
Year Founded
1958
Trading Areas
AL, AZ, CA, CO, CT, DC, DE, FL, GA, IA, ID, IL, IN, KS, KY, LA, MA, MD, ME, MI, MN, MO, NC, NE, NH, NJ, NM, NV, NY, OH, OK, OR, PA, RI, SC, TN, TX, UT, VA, VT, WA, WI
Senior Executives
CEO: Dan Bane
CFO: Bryan Palbaum
SNAP

FORWARD
Trader Joe's is gearing up for another round of store openings with five new stores in California (3), New York and Washington welcoming customers for the first time this month. October's openings will be the last in 2016, bringing the company's total to 465. "Measured" is an apt descriptor of Trader Joe's approach to expansion, and Chain Store Guides projects 15 to 20 new stores in each of the next two years, bringing the company to the 500-store mark in 2018.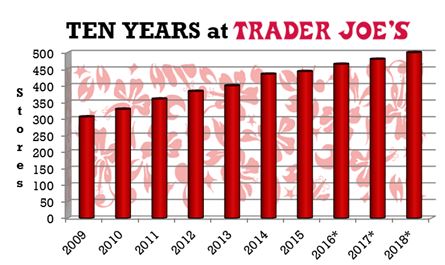 Source: Chain Store Guide Database of Supermarket, Grocery & Convenience Store Chains*CSG projections based on proprietary analysis and company statements. Actual figures are subject to change. This data is not intended for investment decisions.