CSG Snapshot: Sephora USA Inc.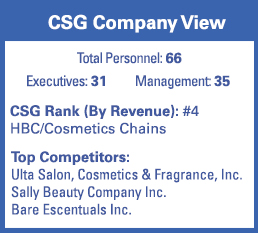 525 Market St
San Francisco CA 94105
(415) 284-3300
www.sephora.com
Total Stores
403
Total Sales
$2.25 billion (e)
Year Founded
1993
Trading Areas
AL, AR, AZ, CA, CO, CT, DC, FL, GA, HI, IA, ID, IL, IN, KS, KY, LA, MA, MD, MI, MN, MO, NC, NE, NH, NJ, NV, NY, OH, OK, OR, PA, RI, SC, TN, TX, VA, WA, WI, AB, ON
Senior Executives
President + CEO: Calvin McDonald
COO: Satish Malhotra
Exec VP of Retail and Education: Christie Jack
CFO: Alexis Rollier
SNAP

FORWARD
Beauty retailer Sephora recently opened its 400th store in August on Chicago's Magnificent Mile, and the location alone doesn't set this store number 400 apart. The new Chicago flagship is one of the first locations to feature the company's new Beauty T.I.P. Workshop, a concept that blends the digital and in-store "education" experience where customers can make use of online tutorials, sign up for workshops and sample products – virtually or for real. With a strong belief in the value of bricks-and-mortar as an avenue to customer engagement and sales growth, Sephora should add another 35 to 40 store in 2017, nearing the 500-store mark in North America (excluding JC Penney stores-within-a-store) toward the end of 2018 according to Chain Store Guide estimates.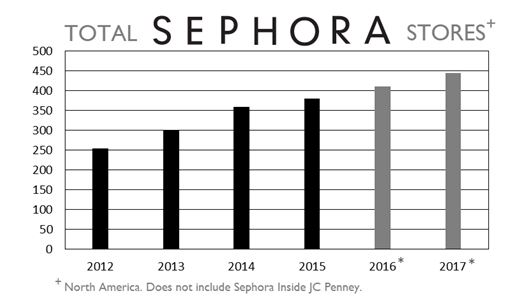 Source: Chain Store Guide Database of Drug Store & HBC Chains. *CSG projections based on proprietary analysis and company statements. Actual figures are subject to change. This data is not intended for investment decisions.