CSG Snapshot: Francesca's Holdings Corp.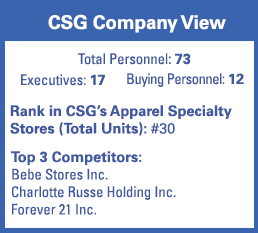 8760 Clay Rd
Houston, TX 77080
(713) 864-1358
www.francescas.com
Total Stores
663

Total Sales
$439 million
Year Founded
1999
Trading Areas
AL, AR, AZ, CA, CO, CT, DC, DE, FL, GA, IA, ID, IL, IN, KS, KY, LA, MA, MD, ME, MI, MN, MO, MS, NC, ND, NE, NH, NJ, NM, NV, NY, OH, OK, OR, PA, RI, SC, TN, TX, UT, VA, VT, WA, WI, WV
Senior Executives
President + CEO: Steven Lawrence
Exec VP + Chief Administrative Officer: Kal Malik
Exec VP + Chief Merchandising Officer: Laurie Hummel
Exec VP + CFO: Kelly Dilts
SNAP

FORWARD
Snap back to early 2016. Statements from Francesca's called for 900 stores in five years, an ambitious but achievable (though perhaps not advisable) goal for this rapidly growing retailer of an "eclectic mix of carefully-curated" clothing, accessories and gifts. Store openings have been a necessity of late as comparable store sales have declined in two of the last three fiscal years. With new CEO Steven Lawrence taking the helm this month, following May's abrupt departure of Mike Barnes, time will tell whether the goal of 900 remains. Statements during September's Q2 earnings call (prior to the announcement of Lawrence's appointment) didn't explicitly back away from the goal but "flexibility" and "diligence" were stressed in relation to future real estate moves. Chain Store Guide sees Francesca's closing the year with 665-670 stores (up from 616 at its open) and then taking its foot off of the gas in terms of store openings to focus on improved sales and profitability at the existing store level.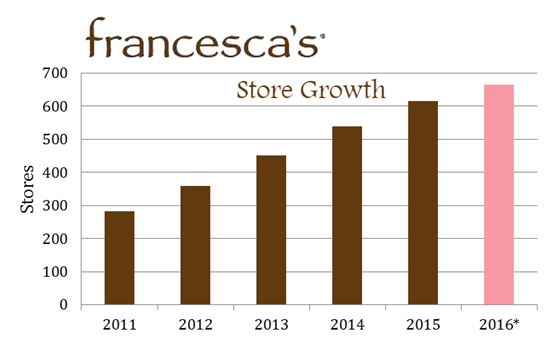 Source: Chain Store Guide's Database of Apparel Specialty Stores. *CSG projection based on proprietary analysis and company statements. Actual figures are subject to change. This data is not intended for investment decisions.