CSG Snapshot: Dollarama Group L.P.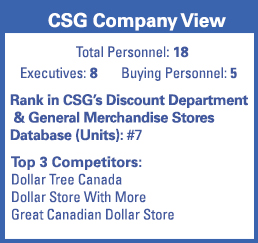 5805 Av Royalmount
Mont-Royal QC H4P 0A1
(514) 737-1006
www.dollarama.com
Total Stores
1,051
Total Sales
C$2.65 billion
Year Founded
1992
Trading Areas
AB, BC, MB, NB, NS, ON, PE, QC, SK, YT
Senior Executives
President + CEO: Neil Rossy
COO + Director of Store Operations: Johanne Choiniere
CFO: Michael Ross
SNAP

FORWARD
The undisputed king of the Canadian dollar store segment, Dollarama continues to sell more stuff and build more stores at an impressive clip. On the store front, the company closed Fiscal 2016 (ended 1.31.16) with 1,030 stores, a net gain of 326 stores over four years. CSG projects new-store openings around 65 stores per year for the next few years. At the register, Dollarama sales grew at an average annual rate of 13.4% over the last four years, closing Fiscal 2016 at C$2.65 billion. Half-way through Fiscal 2017, sales are up 8.9% year-over-year (comp sales up 6.1% at the half) with a stronger second quarter than first, signaling that another year of 10%+ sales growth is within the company's reach.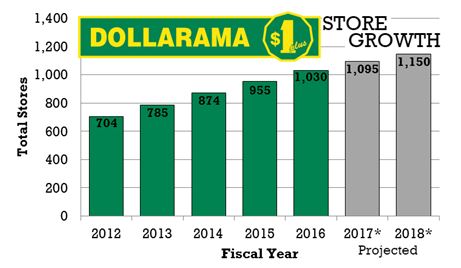 Source: Chain Store Guide Database of Discount Stores & Specialty Retailers. *CSG projections based on proprietary analysis and company statements. Actual figures are subject to change. This data is not intended for investment decisions.